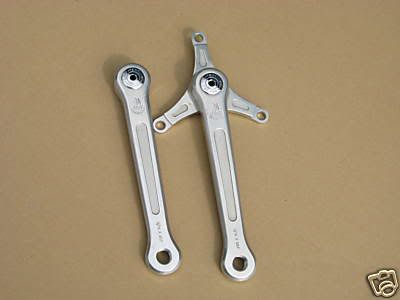 Sold
: $102.50 plus unspecified shipping from Germany


My bid: n/a

campagnolo vintage crankset 170 mm. new, never mounted.


This is the three-arm, 116mm BCD
NOS
Campy Grand Sport crankset from the mid-1970s, which pre-dates the later and more common
5-arm 144mm type
, which was basically a less-polished version of the standard Record crank, with slightly different casting reliefs in the arm and spider. It is also distinct from the even earlier
steel 3-arm "Sport" crankset
, which is 116mm BCD as well.


One of the best known OEM applications of this crank was the late '70s
Raleigh Competition GS
.


I think it's an attractive shape, practical, and fairly unusual. While the original chainrings aren't present, any
number
of
Stronglight
, Simplex,
TA
or Campy chainrings will fit. It will also accept a 36T small sprocket, not quite as small as a 110mm "Compact" crank, but significantly smaller than the 42/41T minimum of a 144mm Record crank. I doubt anyone you're riding with has one either. Further, two desirable "Patent" chrome dust caps are included, probably worth over $30 auctioned separately.

NOS status will always maximize final value. Condition matters and these look great.
Still, it's Grand Sport, not Record, and that alone will turn off buyers. Some people collect
Dura Ace
; does anyone collect Ultegra? And those chainrings won't be cheap.