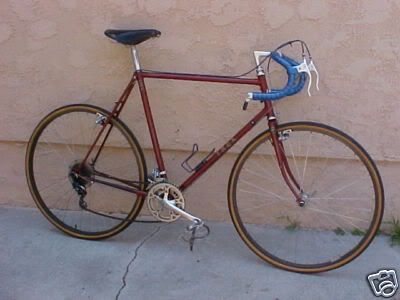 Sold:
$939.99 including shipping.
My snipe: $700-ish
Up for auction is a very nice Trek Road Bike 700 series. We believe it to be a model 720 from 1984 according to the vintage Trek site. Talk about a RARE ride, this is truly a hard to find specimen. If your looking for quality and you want a real pro Touring cycle, have a look at this nice bike. Overall condition is good almost in mint Conditions just some minor knicks and scratches from normal use over the last 30 years. This 15 speed bike is packed full of high quality components, like the Sugino LP Cranks, Maillard 700 hubs, SHIMANO Brakes . It also comes with Matrix Titan T Rims. Other components are: SACHS HURET rear deraileur, Simplex Deraileur, Suntour Shifters, BROOKS PROFECIONAL saddle, Cinelli stem. You cant get any better! THIS BIKE IS READY TO hit the Road with just a bit of TLC. All in all, if your looking for a great Touring bike, look no further. It has everything that you could want in a quality well made bike by TREK. Please have a look at the photos below for more details. The frame size is 61cm from center of cranks to top of seat collar. The stand over height is 86cm. and the top tube measures 57cm.
Prices are rising for true touring bikes from the early '80s. It's not unusual to see these Trek 720's, Specialized Expeditions or Miyata 1000's going for nearly a grand these days. I think people appreciate them as practical classics in times of high gas prices.

The 720 model from 1983-84 is particularly interesting for its 47cm chainstays, less so for its Helicomatic hubs. This example is very original.