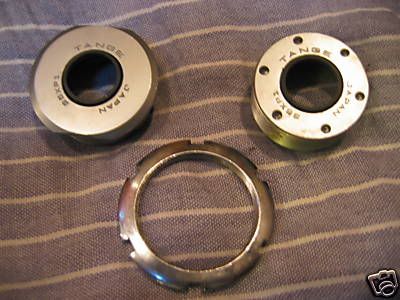 Sold:
$81 plus $4.95 shipping
My snipe: n/a
NOS NEW; FRENCH Bottom bracket cups and lockring by Tange. 35tpi. Excellent Japanese quality, be ready to overhaul your french bicycle! This is new, unused and still in the box! It does not get any better condition than NEW.
Reader Mikael posed the following inquiry:
Hi Velosniper,
I have noticed that the price of French thread bottom brackets have increased substantially in the last couple of weeks. This culminated in this unprecedented auction price:
200254763150
(I thought that $40 would be a price I could live with). Perhaps not surprisingly there are now six or seven auction by "
vintage-bike
" out of Nancy, France who is offering bottom brackets starting at a "reasonable" $35.00 or so. Obviously, I am way behind the wave when these prices are spiking just as I need a set of cups. Is this a seasonal thing?
Cheers,
Mikael
While $86 might not be unprecedented, it sure is a lot of money for a pair of cups and a lockring from a mid-level brand. But that's part of owning a French bike: you will pay more for expendable parts than you will with a BSC or Italian-threaded ride.
I'm not sure if it's seasonal, but perhaps the approaching end of good riding weather has other French bike owners either replacing parts they wore out this Summer, or trying to get a bike on the road before Winter hits. It's tough to draw conclusions from any single moment on eBay.
So, what are Michael's options? Nothing cheap, it seems...
My first thoughts for a quick solution were Harris Cyclery and Velo Orange, but neither has French-thread traditional cup and cone BBs or cups at the moment. VO has the lovely
Edco competition bottom bracket
($88, assuming the 122mm length will work), as described in
this post
, and Harris is one of many places that carry the well-loved
Phil Wood
unit ($155 with rings, many lengths available). If a cartridge style BB is acceptible, both of these offer a performance-to-cost value that exceeds that offered by these Tange cups, and there is no chance of Mikael's existing spindle not working with another brand's cups (it seems he plans to reuse it).
If Mikael is set on a traditional fixed/adjustable cup set,
Cyclartist
has a nice set of
Spidel cups
for $75 buy-it-now. Otherwise, eBay looks pretty bare; I think he'll have to slug it out for one of Vintage-Bike's offerings.
He could also join the
Classic Rendezvous mail digest
and post a "Want To Buy" ad.
One last thought is to crack open the yellow pages and call all the local shops. He might get lucky and find a shop that has something appropriate in stock.
Good luck and thanks for writing, Mikael!