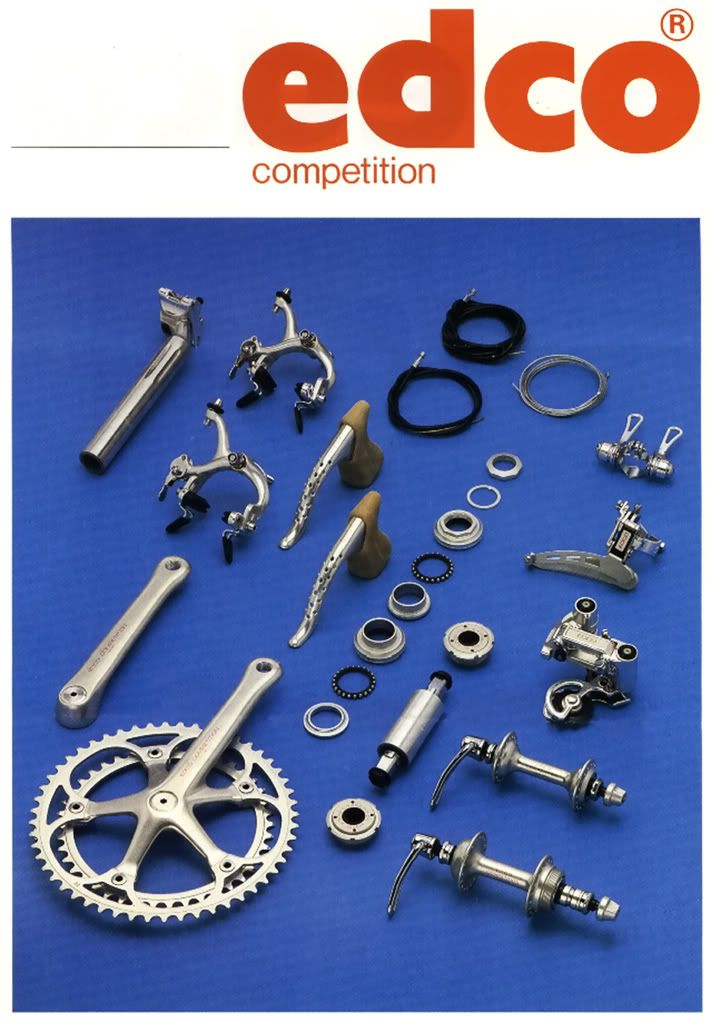 Sold:
$90.42 including shipping
My snipe: $60-ish.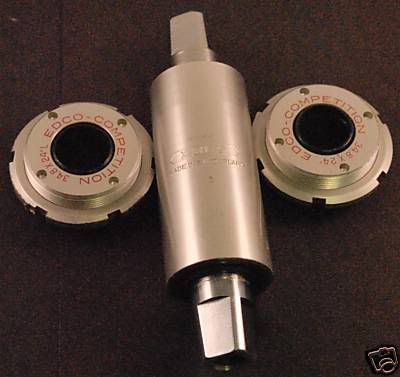 This is sealed bearing bottom bracket features aluminum adjustable cups on BOTH sides for perfect chain line adjustment. The bearings are still perfectly smooth. Given what a pain cleaning and adjusting the bottom bracket is, many people put these Edco bottom brackets on their all-Campy rigs. Judging by its appearance, this one looks like it was mounted but never actually used. The threading is English (34.8 x 24), so it will fit the vast majority of bicycles. I measure it at 116mm.
Edco
is a Swiss company that began making bicycle components in 1900. I have seen a
few pictures
and auctions of what look to me like '50s or '60s era hubs, but this bottom bracket is from what appears to be their first big push onto the international scene, the high-quality "
Edco Competition
" group.
The Competition group became available around 1983. In retrospect, this seems like a bad time for a small European company to try to market a new complete groupset; Spidel, the French confederation of former heavyweights was fading fast, Huret was now half-German, and the Japanese dominance of the recreational market was just a click-shift away.
Edco themselves made only the hubs, bottom bracket, headset and crankset for this group. The derailleurs were badge-engineered top of the line Simplex models, the Super LJ (front) and SLJ 6600 Aerodynamic (rear). The shifters were the familiar Simplex retrofriction type, and Simplex provided the seatpost as well. I don't know if the shifters and seatpost were actually branded Edco or left plain. All of these Simplex components are top performers for their era.
The parts that Edco manufactured themselves are also of outstanding quality, and the bottom bracket is the stand-out part of the whole group. As the seller points out, it was smooth, maintenance-free and allowed for fine chainline adjustment. It can also be installed and removed by a competent home mechanic without the usual battle with a fixed cup.
The headset is alloy and is the equal to any loose-ball competitor. Visually, it's a Super Record copy.
In his
1988 book,
Frank Berto supposed that the design of the crankset was influenced by the Campagnolo C-Record, with its arched spider flowing smoothly from dust cap to chainring. The crank is extremely light for its era, weighing only 577g versus a comparable Super Record crank at around 650g (estimate).
The hubs are also smooth and light, with rather plain chrome Q/R levers with alloy ends. All of the group's Edco-made alloy parts are finished in a nice pearl-silver anodizing and simple red graphics.
But who made the brakes? The wheel guides and lever drilling seems to match the
Weinmann Carrera
. Weinmann was also a Swiss company so maybe there was a local connection. The quick releases on these brakes have a small pin above the rotating area which is seen on the
Weinmann 405
, but the cam is external on those brakes, and here it's internal, as it is on the
Dia Compe NGC400
. Weinmann and Dia Compe shared many designs and patents, so maybe there was some crossover on the Edco brakes. It almost looks as if these are NGC400 arms with Carrerra parts hung on them, but that's just a guess.
In the end, despite its quality, the group probably suffered from the same problems that killed Spidel; mismatched finishes and no market share. OEM specification is the key to success. You don't succeed by selling one groupset at a time to local bike shops; you sell thousands of them to manufacturers. The only bike I've seen that came with these components was the Masi Nuova Strada (
photo
) (
auction
), and I've only seen two of those. Anyone know of another application?
Later Edco groups featured some odd, pre-STI brake-mounted shifters that would have given the CPSC a heart attack, and forays into moutain bike components. These and other products can be seen at
Classic Rendezvous
, where I found the catalog image above. Edco also made the hubs for Zipp wheels until about 2001 when production went in-house.
Sapim
took over
the bicycle division of Edco in 2001 but it doesn't appear that they are still using the brand name.