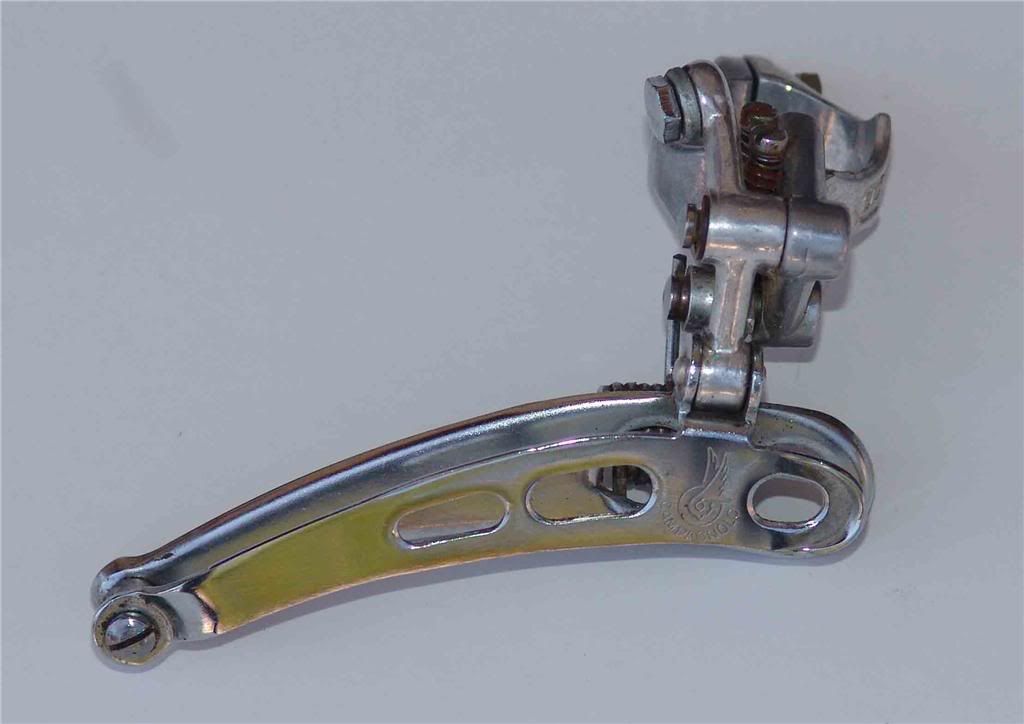 A recent frame purchase has me searching for a later-style Campagnolo Nuovo Record front derailleur.
Here are some recent auction results that I think represent current fair market values. All of these are from the post-CSPC era (
1978 - on
), so the outer cages have a lip at the leading edge and are pierced with three or more holes. Earlier NR versions look like
this
. Super Record versions have a
black anodized outer arm
but are otherwise identical.
Auction links and sale prices including shipping:
3-hole, clamp-on
: $18
3-hole, braze-on
: $36.50
4-hole, narrow band
: $57.52
The first derailleur, above, is the most common type, a 28.6mm clamp-on version. A
completed item search
today shows a few in this price range, plus one or two abberations (including one at
$51
- why?).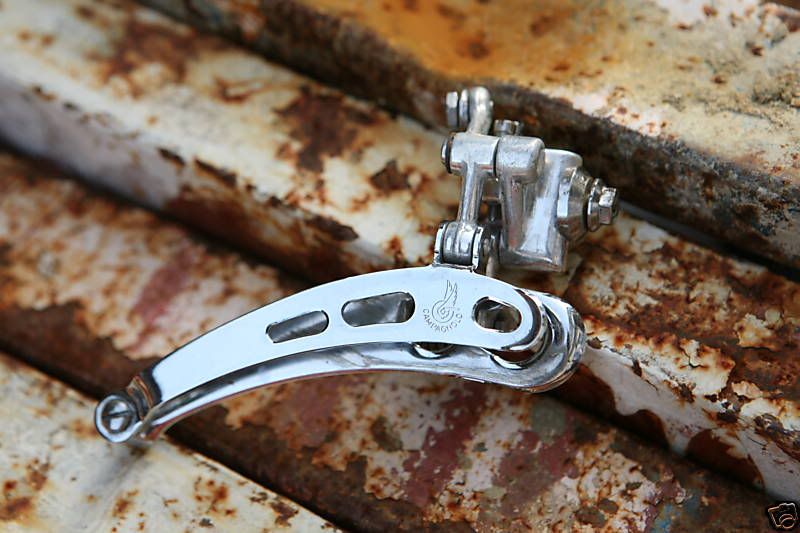 The second photo shows a braze-on version. These are relatively uncommon, but not much more valuable than the clamp-on version.
Front derailleur braze-ons became popular in the early '80s. The 1984
Palo Alto catalog
shows only a $2 price difference between Super Record and Nuovo fronts, and they didn't list the NR braze-on option. I think most people just bought the Super version and went on with their lives. Even today, NR eBay values are much lower than SR.
It's easy to switch the cage and arm assembly from a clamp body to a braze-on body, if you have one around. This probably further suppresses the value of braze-on NR fronts.
The last photo shows the four-hole narrow clamp model, the most unusual of the post-CPSC Nuovo front derailleurs. Its relative scarcity is reflected in the higher selling price. This unit was only available for a short time around 1978. Note that the clamp lacks the "points" around the Campagnolo text, as seen in the first photo above. These clamps are fragile, and Campy went back to the original design fairly quickly. I have not heard any theories as to why they reverted to the three-hole cage; perhaps the extra hole reduced the cage's rigidity and therefore shifting performance, but that's just a guess.
For further reading, Tom Dalton
wrote extensively
about the four-hole derailleur on the Classic Rendezvous list earlier this year, pointing out the interesting fact that there was no Super Record four-hole version. The searchable Classic Rendezvous archives are
here
.