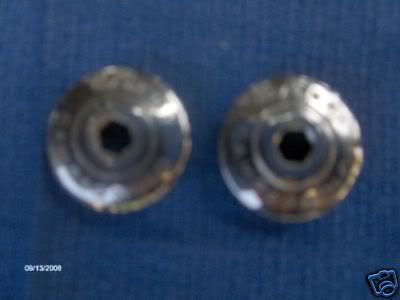 Sold
: $88 plus $6 shipping.
My snipe: n/a.
*****USED BUT IN EXCELLENT CONDITION*** 70'S CAMPAGNOLO "PATENT" CRANKSET DUST CAPS. ALL CHROME STEEL. ****IN EXCELLENT CONIDITON. NO RUST. VERY LITTLE SCRATCHES. NO BLEMISH.****
I sincerely hope that this is the ugliest picture I ever put up here, especially after
yesterday's
lovely shot of that Galli group by tanya9465.
But I seemed to have goofed, or at least misjudged the market significantly in my post about the
three-arm Campy Gran Sport
cranks. I suggested that the included NOS steel "Patent" dust caps represented about $30 of the $102 selling price of that auction, but these
used
caps sold Monday for a shocking $88 before shipping. What would those NOS caps be worth then? Pardon me while I go look behind cabinets in the garage...
I have a theory that sometimes an auction can be too well executed. Who knows what sins are hidden in this blurry photograph? The bidder's imagination is free to wander, unfettered by the reality of pitted chrome or evidence of alan key rudeness that might put him off if it were clear in a better picture. I only hope that reality lives up to this buyer's dream.
*********
Be a Co-Sniper! Contribute ideas or posts to velosniper@gmail.com!