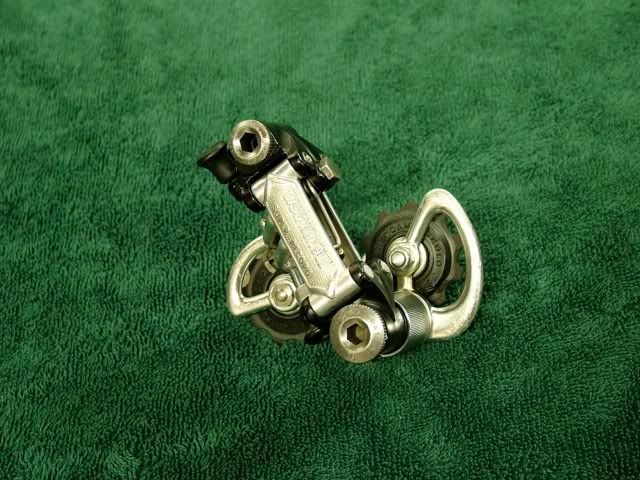 Sold: $312.81 including shipping
My snipe: n/a
This is it! Complete with titanium hardware and straight out of the Sultan's private reserve. The lone modal that marked the transition from Nuovo to Super Record. A 1982 Campagnolo Super Record rear derailleur with in great overall condition with strong springs and tight pivots. The top pivots are hollow and the bottom pivots are solid. An outstanding old school rear mechanism for any friction drive train up to 7 speeds, and freewheels up to 28 teeth. Not many of these around any more. Most have been snatched up but luckily the Sultan is in business to supply restoration artist worldwide with hard to find Campy items like this. The pulleys have been upgraded to the newer Campy pulleys. Please see all photos.
The "Type 1" Campagnolo Super Record rear derailleur is distinguished by the silver convex outer parallelogram link. It looks much like a contemporary Nuovo Record part, as opposed to the "Type 2", which has a flat outer surface reading "Campagnolo" in script. Originally introduced in 1973 (

not 1974 as I first wrote here, thanks anon

), it was superseded by the later type beginning in 1978.
How to explain this item then? Campy derailleurs of this era have a manufacturing date stamp on the upper pivot where the cable housing enters. Although the date is not shown in the listing, the Sultan claims this one is dated 1982, four years after the intro of Type 2.
Perhaps Campagnolo simply used the parts they had lying around. It's not hard to imagine a sleepy Italian factory, someone finds a box of type 1 outer links in a dusty corner, and into the assembly line they go, to the delight of future derailleur freaks.
Aberrations like this excite collectors as evidenced by the selling price, which is about double what a mid-seventies Type 1 would bring (especially with incorrect "upgraded" pulleys).

However, if you look closely, you'll see that the bottom pivot pins are solid, which could indicate that they have been replaced. While it's not easy, it is possible to build whatever combination of upper and lower pivots and links you have into a functioning component. Then again, the upper pins look original...

So, is this some kind of franken-derailleur that someone paid way too dearly for, or is it a real 1982-but-first-gen-SR derailleur? Perhaps only the Sultan knows for sure.

The Sultan is an interesting eBay seller. He specializes in the mercenary dismantling of classic era road and mountain bikes for component resale. While some people find it disturbing that he is ripping apart original bikes, others appreciate the quality of his auctions and product. His clear photography and his ability to inject a little personality into his listings have made him into something of a brand on eBay, and he continually realizes higher prices than other sellers with similar goods.