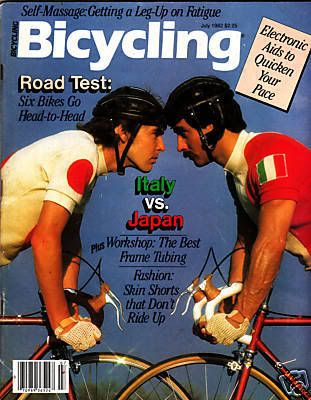 Sold:
$90.19 including shipping
My snipe: n/a
HERE BE AN ISSUE OF BICYCLING MAGAZINE FROM JULY 1982 IN DECENT SHAPE. Featured in this issue are
ITALY VS JAPAN- MIYATA TEAM, FUJI PROFESSIONAL, 3RENSHO SUPER RECORD EXPORT vs. GUERCIOTTI JET, ROSSIN RECORD DEROSA SUPER PRESTIGE; wright brothers cycle shopkeepers; touring in denmark and Wiscon
sin and lots of other articles in the regular departments as well as great ads of gear in the early 'old school' days! old school issues of magazines are getting harder to find, so scoop these up when you can.
1982 now seems like the end of the golden era of classic racing bikes. No click shifting, no funny bikes. Brake cables looped upward in the open breeze. Colors and graphics were pure and simple. Wool jerseys, crochet gloves and leather hairnets proudly appear on the cover of the country's biggest cycling magazine. Within just a year or so, all of this would be hopelessly passe.
Inside, several bicycles that are now considered top classics were tested head to head. I believe the cover story is what drove the price so high. 3Rensho-related stuff has been gaining in value, perhaps more because of renewed interest in the brand's legendary track bikes than anything else, and DeRosa bikes are among the best riding and most revered classics today. The other test bikes have their own smaller cults as well.
This is a stratospheric price for an issue of Bicycling, which mostly sell for under $10.