Riders jostle to sign the "controle" in Epinal, midpoint of the fourth stage, from Metz to Belfort, during the 1935 Tour de France. A variety of tubular-wearing styles are visible: figure-8, twisted, knotted, double tubulars, etc.
Wearing spare tubulars around the shoulders helped speed tire changes, and made it easier to pass used tubulars to a moving team car, or receive new tubulars from the car or other riders.
From "Le Miroir des Sports" No.833, 9 July 1935.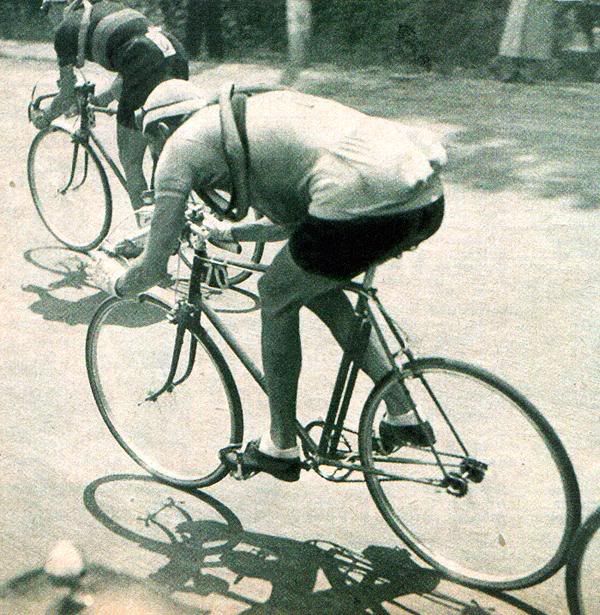 Nice form from Charles Pelissier at speed. Charles would win stages 2 and 12 of the Tour de France that year.
From "Miroir des Sports" No.840, 25 July 1935.
Paris-Nice, 1936, stage 3 from St.Etienne to Avignon. Only nine kilometers into the stage, and Le Grevès is already leading this beautifully-aligned escape group ahead of the main peloton.
From "Match l'Intran" N.506, 24 March 1936.
A few years ago,
Classic Rendezvous
listmember Aldo Ross began scanning images from his collection of vintage cycling magazines and posting them on Wooljersey, usually followed by a brief announcement on CR.
Dating mostly from the pre-war period, these images recall the style, suffering and beauty of this era of the sport.
Aldo added value to his project by interpreting the photos for the modern viewer, as in the small lesson on tubular carrying methods in the first photo above, or by simply translating and transcribing the accompanying magazine captions.
Although he stopped posting new images some time ago, you can see and read about all 562 images in Aldo's Pic of the Day album
here
.
Wooljersey
is a photo hosting site and gallery run by Morgan Fletcher. Morgan does a great service for the vintage bike community with his site, and new images are posted
every day
.