NOS Selle San Marco Concor Supercorsa Sprint
: Sold at $181.50 including shipping
Selle Italia Lumbar Support (NIB)
: Sold at $95 including shipping
My snipes: n/a
The late 1980s and early 1990s were a time of great experimentation in the world of bicycle components. Some of these innovations survive today (TT bars, disc wheels), and others have not, be it due to function, fashion, or most curiously,
UCI
legislation.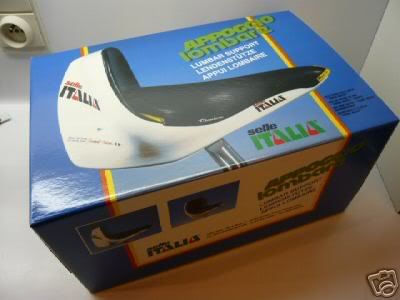 The UCI, the governing body of racing cycling, decided it was important to preserve some of the features of the traditional racing bicycle. Among the products they banned were these two saddles, which were said to give the rider an advantage by providing a leverage point to push against while pedaling.
The Concor version, top, is the earlier and more subtle of the two. I have ridden one of these saddles, and while I didn't use it in competition or for any great length of time, I could see how it might be an advantage. You do have to be careful getting off your bike that you get your thigh high enough to clear the lip, but you'd probably get used to that. The Concor Sprint carries a small premium over the price of a NOS perforated Concor, maybe $30-50.
The Selle Italia "Appoggio Lombare" is not a saddle, but a fairing-like accessory that
attached
to a Selle Italia Turbomatic saddle (one of which
sold
recently for $30.50 including shipping). In addition to the leverage advantage, it also clearly has aspirations to improve airflow around the riders hips. It is
far from subtle
, but that's its charm.
Bike Works NYC has a fun
saddle museum page
, which states that the support was used in the prologue of the 1991 Tour de France and was subsequently banned, but does not name the rider. Other sources (
one
,
two
) discuss Thierry Marie's use and the UCI's subsequent banning of a lumbar saddle in the prologue of the 1986 tour. I think the 1986 date is probably the correct one, and it was probably not the Appoggio as the Turbomatic had not been released at that time.
Velobase
has further pictures and info.