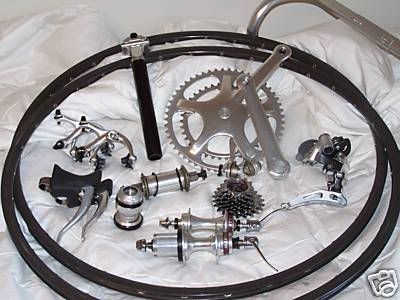 Sold:
$1,425 (Buy-It-Now) including shipping
My Snipe: n/a
Here's a special offering- a complete, nearly New Old Stock Mavic SSC parts ensemble- the very same as ridden to victories by Sean Kelly and Greg Lemond. Everything is here, all the original equipment, in this extraordinarily rare opportunity to revisit 1990. This ensemble has an absolutely astonishing degree of engineering. The folks at Mavic spared no expense with the manufacture of this ensemble. I'll go through it part by part.
1. The rear derailleur is a short cage 840 model. It is completely overhaulable- down to the last nut and bolt. The jockey wheels spin on special Mavic mavic needle bearings which spin smoother, last longer, and distribute weight more efficiently than other bearing types in this application. All the parts are high-quality, everlasting forged aluminum.
2. The front derailleur (model 860), like the rear, dissassembles completely. This is a real luxury, virtually guaranteeing a lifetime of front derailleur shifts. Back when it was still the same old company, Mavic used to have all small parts available for replacement. A nice feature of this derailleur is the allen cage bolt, which allows you to remove the derailleur without breaking the chain.
3. The Crankset is the venerable Mavic 631 Starfish model! Perhaps the aesthetic centerpiece of the untire gruppo, this shiny legend of a crankset has a standard 130bcd, (includes Mavic Chainrings!) and 172.5mm arms. The threads and tapers are PERFECT. The incredibly-difficult-to-find aluminum dist caps are included. The chainrings are bolted into place with real SSC black bolts. This is a real gem.
4 The Mavic SSC bottom bracket is one of the more innovative parts of the gruppo. Rather than threading into only one kind of frame, this BB press fits into ANY frame. This makes it very versatile, and also gives it the ability to bring stripped frames back from the dead, making it a highly sought-after item. According to my digital micromoter, the hollow spindle is 114.05mm long. And it's as smooth as butter.
5. The shifters are Mavic-branded and manufactured by Simplex. They 8 speed indexible and also have a retrofriction option. These are the sturdiest shifters I have ever used, and with the matching satin aluminum finish, possibly the most beautiful. Even some of the staunchest of Campagnolo fans bought these as aftermarket parts for their Record-equipped bikes to improve shifting.
6. Headset- This is my favorite part of the group- It's a standard 1 inch threaded headset with 25.4x24f threading. It has regular ball bearings, but is constructed in such a way and milled so precisely that its bearings are as well, perhaps better, sealed than a standard King headset. Another nice feature- It has pinch bolts to keep from rattling lose! Pretty red grease.
7. Brakes and levers. This set comes with the much-revered japanese-made, Mavic marked single pivot calipers with completely-hidden, internal springs. Don't listen to Grant Peterson's espousal of the Superbe Pro, the Mavic SSC is by far the best single-pivot caliper ever made. Ultra-fine, indexed quick release, internal barrel adjustor, and angled brake slots! As a nearly NOS ensemble, these brakes have the original pads in perfect condition. Even all 4 allen caps are still present! The levers are as fine as the calipers. Aero-style with fresh hoods.
8. Hubs and cassette. The Mavic 571 Cassette hub. Matching front and rear, built up, ridden 20 miles, dissasembled. Sealed bearings. Giant pawls. They come with the upgraded superlight model Mavic Skewers with aluminum non-cam side nuts. These hubs are flawless. Concerned about the funky Mavic Cassette spline pattern? Don't be! I've got an original Mavic 8 speed cassette, too! Complete with the burgundy spacers to match the hub logos. These hubs are like Phil hubs, but racier (lighter) and with upgraded forged/machined bodies instead of fragile CNC machining. Like the Bottom bracket, these are buttery smooth!
9. Seatpost. The Mavic SSC seatpost- classy with black post, satin aluminum clamp, and yellow lettering! 27.2 for most steel and Titanium seattubes. NO SCRATCHING on the outside of this beautiful post.
10. Handlebars. Mod 351. These measure 46cm (outside to outside). It's a pretty nice pair of handlebars. 'Made in France' and 'MAVIC' are etched into the sleeve. They have a fairly deep drop, similar to criterium bars.
11. Rims! You get a pair of Mavic rims, too! Open 4 CD with 32h front and rear to match the hubs. Hard anodized with double steel eyelets. These were the highest end rims Mavic made at the time.
You'll notice I say almost New Old Stock. That's the case. These were purchased NOS awhile back and sat around for some time, then were put onto a bike and ridden for approximately 20 miles. There might be a minor, minor flaw here or there if you look really hard. You can tell that a headset wrench once touched the headset. But look at these pictures, they tell a very true story about the superb condition of these fine parts. Thanks for looking!
(Links in the auction text above are to the photos posted with the auction)
While a couple of these items don't quite measure up to the seller's "Nearly NOS" description, it is still a very practical, desirable and complete group. It appears to be missing only the bar and
stem
.
At least one person thought the $1,425 price was a good deal. Compare this to a slightly earlier
Dura Ace 7401 group
(
photo
) that went unsold at $1,100 recently. I can't find any recent results for a contemporary Campagnolo Record group.
I think a more economical way to go might be either this
Serotta
or this
Vitus
; buying a complete bike and selling the frame and other extra parts is a good way save money. We'll see if I'm right when these auctions end...
Jeremy Rauch at
tearsforgears.com
has written quite a bit about this era of Mavic production.