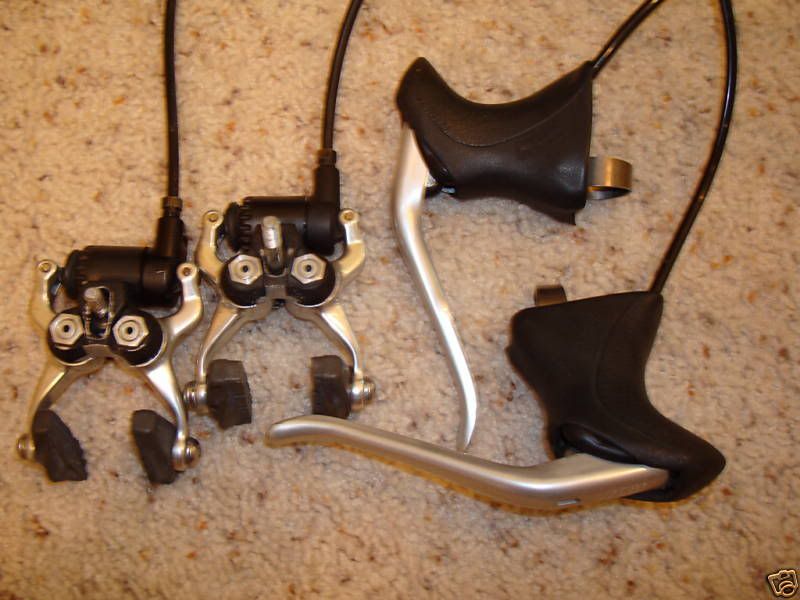 Sold
: $218.20
My Snipe: n/a
Weird Brake Week continues with part 3, submitted by reader Mikael, writing about something I'm totally unfamiliar with, hydraulic rim brakes:
These are interesting brakes in some ways. Their strengths are that they have the wonderful modulation associated with hydraulic brakes when compared to cable operated brakes. This is particularly noticeable for the rear brake on a tandem--and in contrast to a single bike, the rear brake on a tandem is relatively effective.

While disk brakes are a dime-a-dozen these days, hydraulic rim brakes are a little more unusual. Magura is the market leader for these babies which appear to be particularly attractive to old (school) guys. They are readily available for a couple of hundred dollars new or about forty used (ebay item: 150299169710)

Back in the last century, Magura made a couple of attempts of offering these with road levers (HS66 and HS77). They were a pretty big hit with tandem riders and Cannondale offered these on both mountain and road tandems for a year or two. I don't think they caught on with 1/2 bike riders though because Magura stopped making them back in 2001 (HS66) and 2003 (HS77). This is where things get interesting:

It appears that cross riders are starting to be attracted to these brakes. Some intrepid home mechanics (with more wrenching than riding time on their hands--old fat riders like me no doubt) even manage to set these up with dual levers. Because the road levers are out of production they are by now very hard to buy. What this means is that while the pistons etc are very cheap as judged by the used sets with straight bar levers, sets that include road levers are consistently going for over $200.00 (eBay 120308496135--Hint: they are more common on the German eBay site than anywhere else). The levers being the only thing different between a $40.00 set and a $240.00 set.

I have almost given up on finding these levers now. I think my best bet is to look for bikes that include the levers rather than finding the levers on their own. I was sorely tempted to pick up an old Cannondale tandem on eBay this summer that did not sell for $1000.00. I think that it would have been relatively easy to sell the tandem for a few dollars less than $1000.00 with regular brakes. I probably would have gone that route if it had been a local bike.

This is a good intro to brakes (dismissal of Modolo Kronos is interesting given the interest in the market place).

Rim brake brand new (complete setup) $198.95

Here are other illuminating discussions about brakes:

Solutions for Tandem and Cyclocross Fans: Drop Bars and Brakes

Magura Forum

Cheers,
Mikael
Thanks Mikael! BTW, I love the term "1/2 bike"... never thought of it that way!
The
link
above points out that these calipers were part of a later version of the
Edco Competition group
- cool!
And to my eye, those levers look like
Dia Compe AGC-251
's, modified for hydraulic use.
If you have something you'd like to contribute, please write to velosniper@gmail.com.