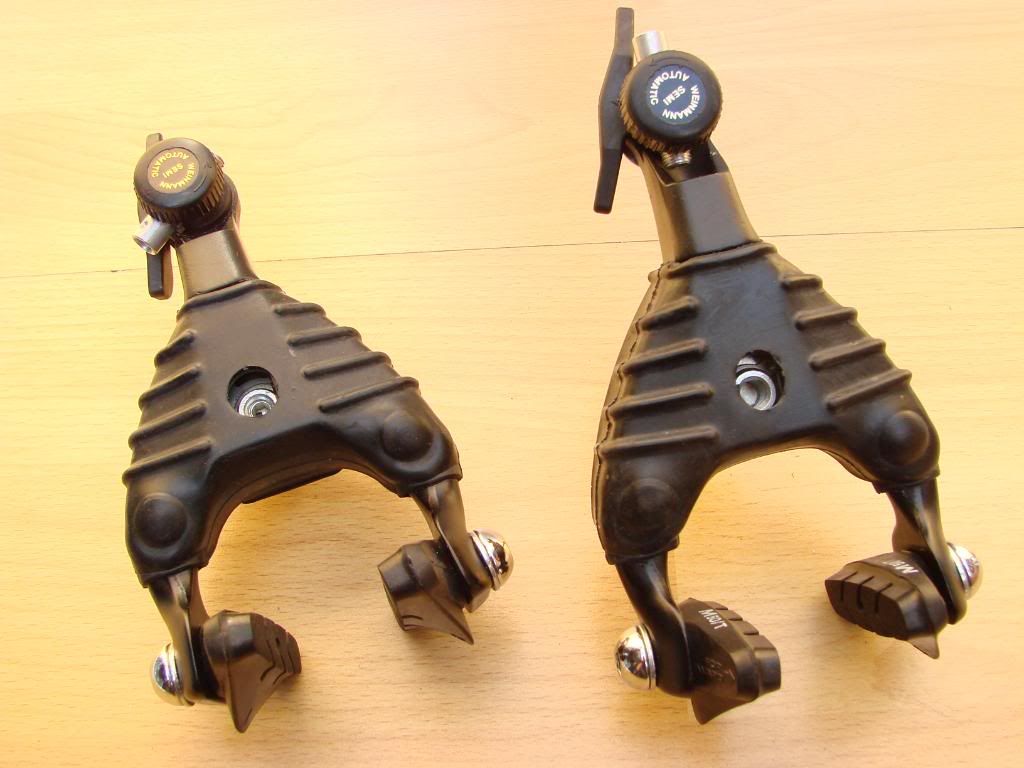 Weinmann Delta
: Sold at $90 including shipping

Weinmann PBS300
: Sold at $97.99 including shipping
My Snipe: n/a
As part of an unofficial "Weird Brake Week" here at Velosniper, I bring you part two, in the form of these recent Weinmann auctions.
The Weinmann Deltas are an obvious homage to the much more attractive and innovative Modolo Kronos that I wrote about
here
.
The Deltas not only share looks with the Kronos, they are equally weak and difficult to set up. The dial-type cable adjuster, an attempt to make the calipers more user-friendly, looks clunky. This set has incorrect Shimano pads; the
original pads are better looking
.
The PBS300 (Progressive Braking System) appear to be meant for city bikes, based on the flat-bar levers. They also appear to be a solution in search of a problem.
They work like cable-operated disc-brake calipers on today's low-end ATBs; the pad on the right is brought toward the rim by a cable pulling a screw-like device, while the left pad is fixed in place. The allen pinch-bolt at the bottom of the caliper allows the pad to be adjusted to the angle of the rim. They have a self-consciously futuristic look that's very Euro-'80s. I'd like to see the bike the buyer is putting these on.
Tune in tomorrow for part three of Weird Brake Week, a guest post from a reader.
If there's a bike part you'd like to talk about, email me at velosniper@gmail.com!