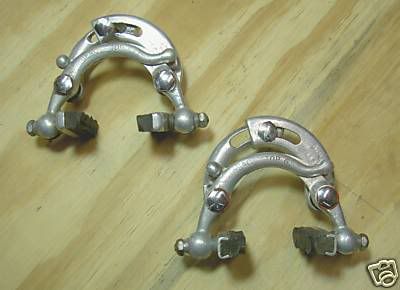 Sold:
$476.55 including shipping
My Snipe: n/a
The brakeset is used, but in excellent working condition. Brakeset has sat on a shelf since the seventies. There is some surface rust on some of the steel pieces. This should clean up with naval jelly or equivalent. There is also some oxidization on aluminium. This oxidization will clean up with Simchrome or equivalent.
The Mafac Top 63 are among the rarest and most sought-after vintage brakes.
Their most unusual feature is that the entire unit moves up and down on its centerbolt to adjust pad height; the ball sockets that hold the pad shafts do not allow vertical adjustment.
A bikelist.org
archives search
reveals that these have sold for $700 and higher in the past. These brakes use a unique straddle wire, missing here, a fact that might have lowered the final price.
More photographs and period advertisements for the Top 63 at
Classic Rendezvous
.