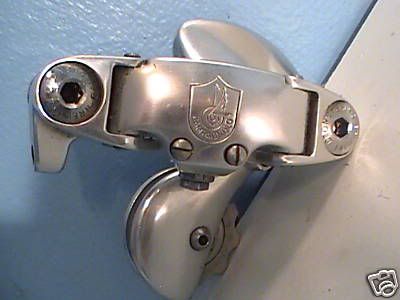 (Top image is the auction item)
Sold
: $799.21 including shipping
My snipe: n/a
CAMPAGNONO C RECORD rear derailleur. Vintage 1986 NOS unused new condition very minor shelf wear from storage. Looks like a shorter cage 1 7/8 inches between pulley centers. Stamped / engraved with CAMPAGNOLO logo on body. Super sleek style, factory fresh.
I'm no expert on C-Record stuff, but here's the basic story as I understand it. Please correct me if I'm mistaken.
Following the death of Tullio Campagnolo in 1983, the company and moved to replace the aging Super Record group at the top of the Campy lineup. Corsa Record, or "C Record" was first shown at
trade shows around 1984
and appeared in
catalogs
and on the street in 1985. Although the seller says 1986, I think this is a 1985 unit, but don't bank on it. Production stopped around 1990 and was replaced by a group simply known as "Record."
Design details changed throughout the life of C Record. The rear derailleurs can be broken up into two major classes: the first generation has a faired-in lower pulley; the second generation has a more traditional open cage (see third photo).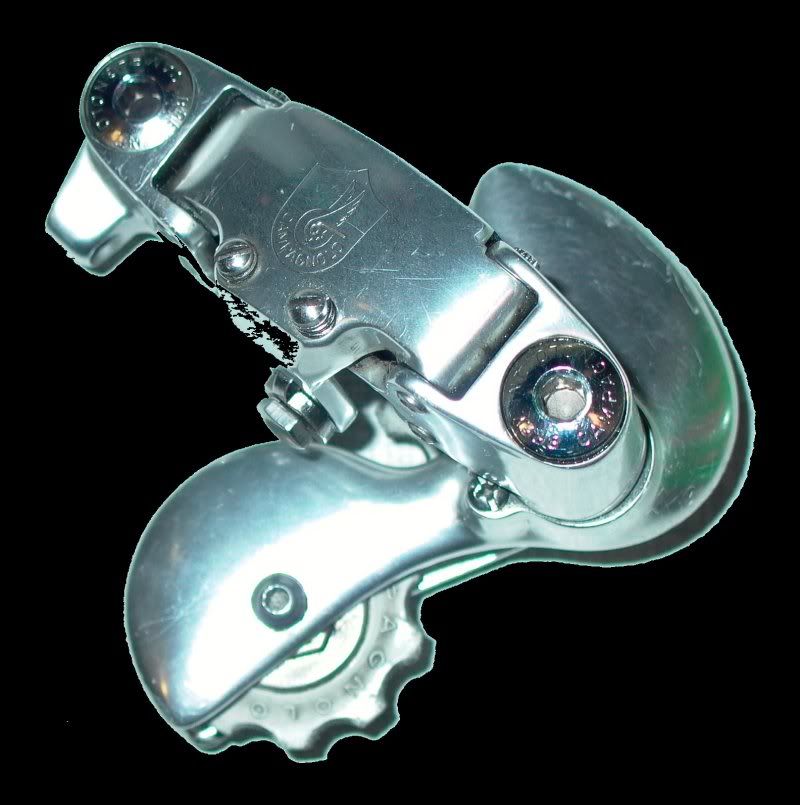 Within the first generation, there are early and late models. The auction derailleur is of the early type, having a deeply-engraved shield logo on the outer link arm of the parallelogram.
This deep engraving was also applied to the arms of the crankset, where it acted as a stress riser and led to crank
failures
. The deep logo was replaced by the shallow engraving (or possibly laser etching) shown in the
second photo
around 1986.
The nature of collectors being what it is, the early deep-engraving parts are now highly desirable, as evidenced by the sale price of this unit.
In my opinion, the derailleur became much less attractive with the open pulley cage in the second generation, seen in the third photo. Prices are significantly lower for this generation as well. There's something futuristic and cool about the first generation derailleur that's lacking in the later part.