Not Sold:
$721.51 including shipping (Reserve not Met) (
Relisted
)
My snipe: $450-ish
THIS AUCTION IS FOR A TRULY RARE FIND! a nos 1984 Trek 720 Frame and Fork. serial number (140513) Campy Euclid headset. This bike was built up for display , NEVER RIDDEN. Overall excellent condition minor nicks on seat tube (front derailleur). Also on top tube near headtube. The drop outs have paint off where wheels were previously mounted. The frame measures 59 cms (23.5 in) c to c of bb to top tube. see the vintage trek catalog for complete measurements.
I'm posting this as an update to
this post
on Trek 720 and other "Golden Era" (well, in my opinion) dedicated touring bikes. That complete bike sold for about $940; this frame, fork and headset ended at just $200 less. Clearly the market is hot for these bikes right now.
Even at these prices, a vintage 720 is still less expensive than a custom frame, which is your only other option if you want the uber-long geometry this frame offers.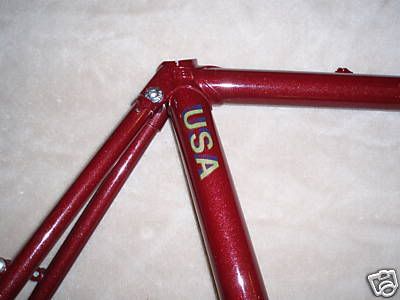 There are a few things I don't like about this generation of Trek products. The graphics are unattractive. I'm not a fan of metallic paint, and the Imron is so thick on these it looks like they were dipped in vinyl. The cast, socketed seatlug is an unfortunate cost-cutting measure, intended to save time mitering the seatstays.
Still, I want one of these pretty bad. It's like a Lay-Z-Boy on wheels.