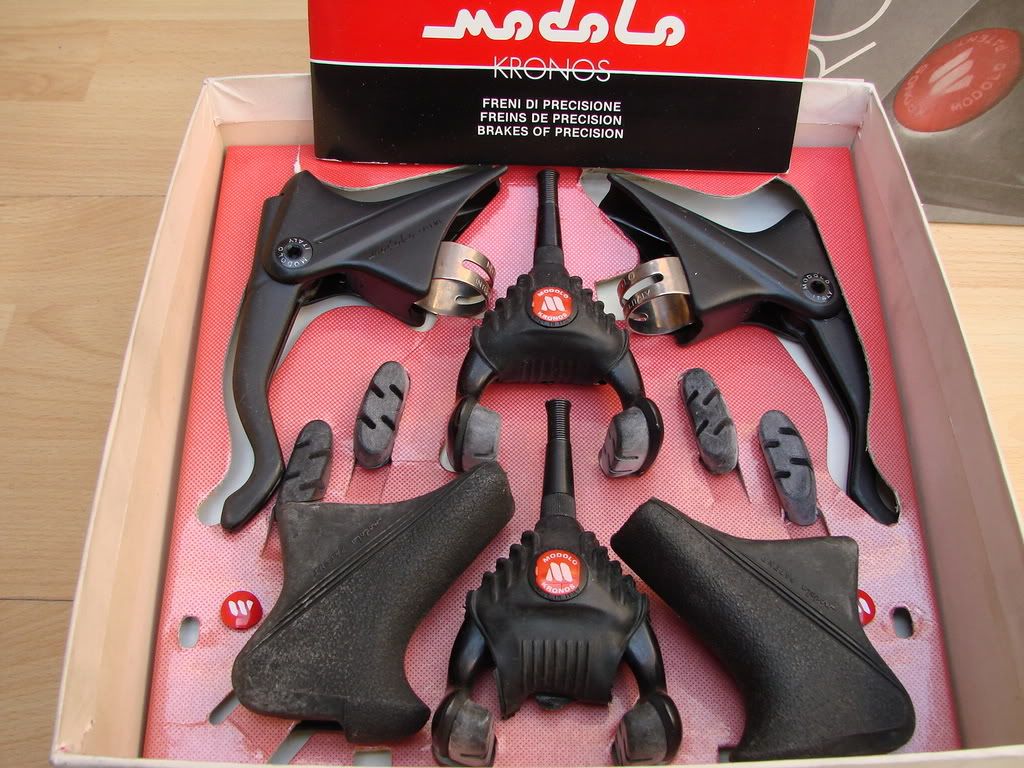 Sold
: $555.71 including shipping
My snipe: $300-ish
RARE ! brakeset KRONOS, new in box ! with brakes, levers, cables, hardware, instructions, garanty........ only one, no second chance NIB!
Modolo introduced the Kronos brakes in 1981, according to
Classic Rendezvous
. This was prime time for the "aero" craze in component design, and the Kronos brakes were intended for use on time trial bikes. Exceptionally small, and light at under
100g per caliper
, they offer little power for road bike use and are best suited for minor adjustments in speed while riding alone.
While these boxed kits were sold as aftermarket upgrades, the Kronos brakes were OEM spec on certain models of the Cinelli Laser (click
here
and
here
for beautiful pictures!), which had a
fairing under the bottom bracket
to smooth airflow over the rear caliper. What's old is new again as this fairing idea survives today in the recently-released
Cervelo P4
.
The days of casually pursuing these brakes on eBay are over. I recall them selling for around $200-300 as little as two years ago. Recently though prices have spiked, not just for pristine in-box sets like this one, but also for orphaned calipers, like
this abused one
which sold for a massive $201 in September.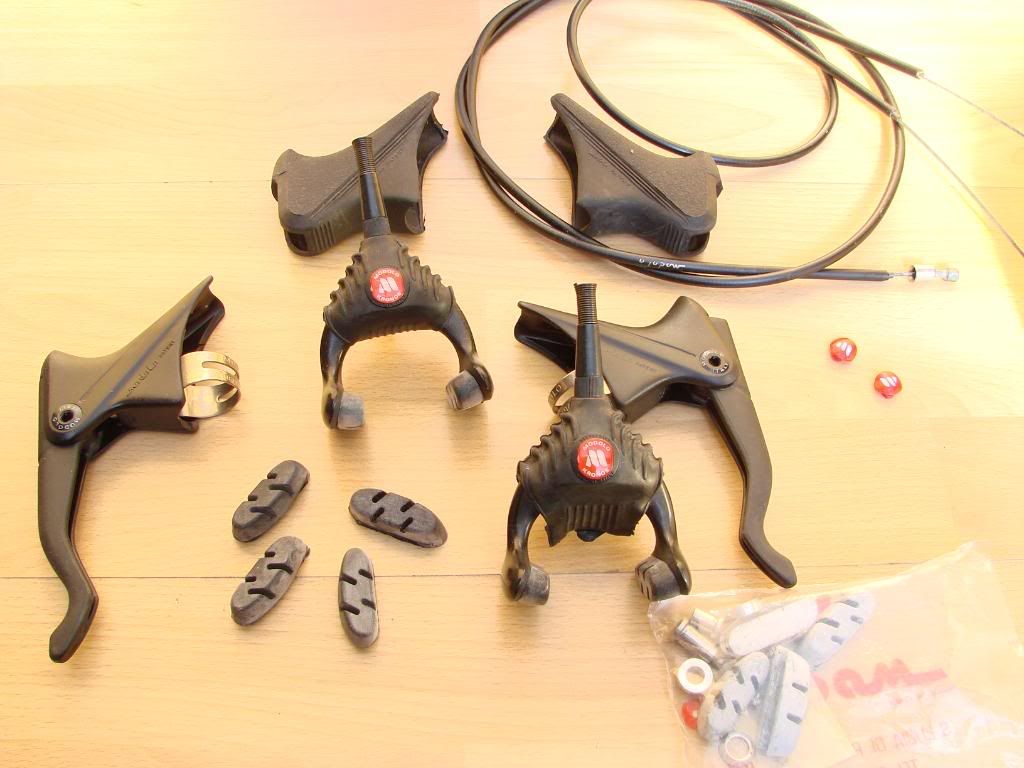 The popularity of the Kronos brakes today probably has more to do with their futuristic good looks than low weight or aerodynamics. They are very striking, with their art deco rubber bellows, red and black color scheme, and stealth-bomber levers.
The levers were made of a plastic composite, and were also popular among cyclocross racers because they held up to abuse. The levers were sold without the calipers as the "Orion" model; these were ligher grey in color but otherwise identical.
Filling out the family tree, the Kronos
shift levers
were a cheap and popular "upgrade" at the time. Made of a similar material as the brake levers, they are quite attractive as well, but feel flexible in use and snap a little too easily. Later versions of the shift levers are marked "Carbon Fiber", while early 1980s vintage just have the "M" logo. These were also branded "Ofmega" for use with that company's
composite Mistral rear derailleurs
. Expect to pay around $20 for a later set on eBay.