The Ideale 2000 series marked the company's entry into modern style leather-covered plastic saddles.
Produced from the late 1970s to the mid 1980s, these saddles were stock on top of the line
Peugeots
in
the era
.
Bernard Thevenet
won the Tour de France in 1977 with a model 2002 on his Peugeot PY10CP, a fact touted on the box and decals in these photos.
Ideale 2001 at
velobase.com
Ideale 2001 at
Satorumas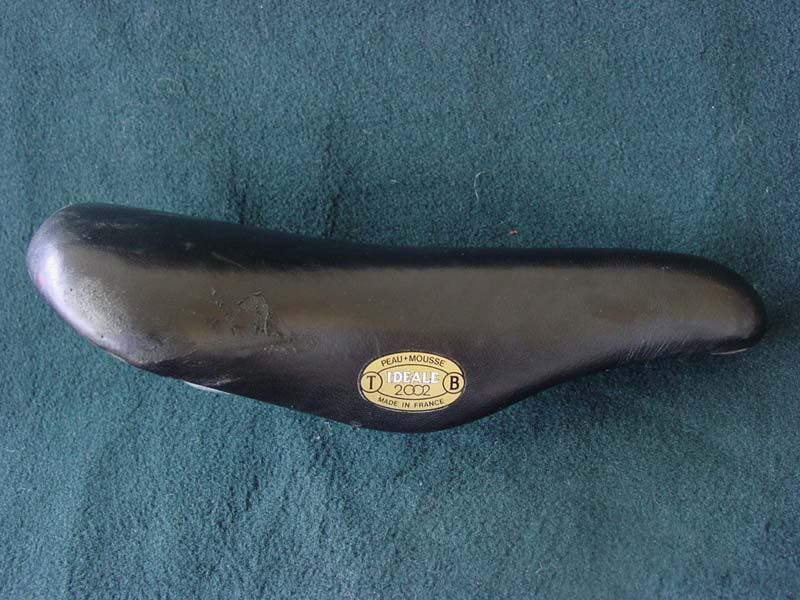 Ideale 2002 from eBay:
Sold
at $52.77 including shipping
Here it is, Estate Sale fresh. An Ideale model 2002 Saddle. Pre-owned and I would consider it in decent condition. Saddle decals are all in place. Saddle does show some road rash and would look good on your vintage road bike that you are actually going to ride.
Ideale 2003 from eBay:
Sold
at $41.76 including shipping
Vintage lightweight saddle.Made in France by Ideale this is the Model 2003 (Peau + Mousse). B. Thévenet with Titanium rail! Saddle looks very good apart from a small scuff on the right hand side.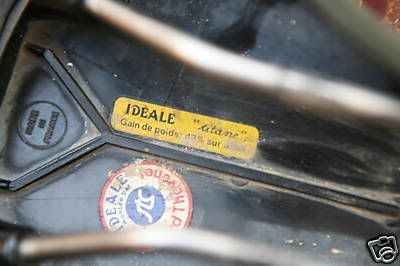 Same saddle, underside. Yellow decal points out that the rails are titanium. The round red, white and blue sticker refers to the STC, or Series Tri-Colore Course. This was a marketing group of French component makers, akin to Spidel, but the brands maintained their own company names on the products.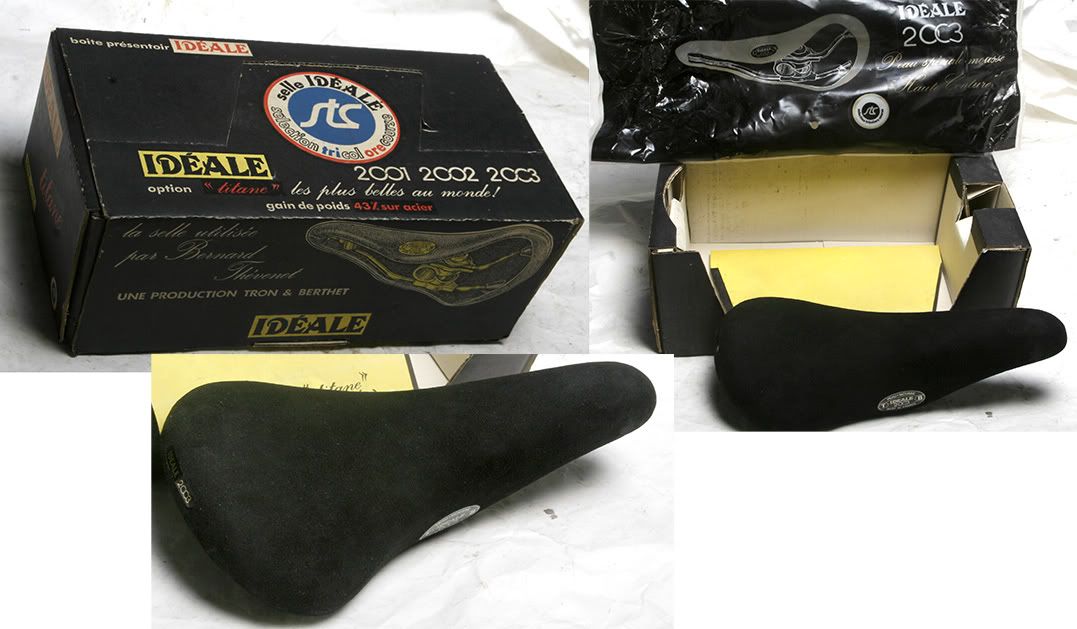 Ideale 2003 from eBay:
Sold
at $186.50 including shipping
NOS NIB Ideale 2003 saddle with titanium rails from the 1970s - this is an exceptionally rare saddle. No reserve.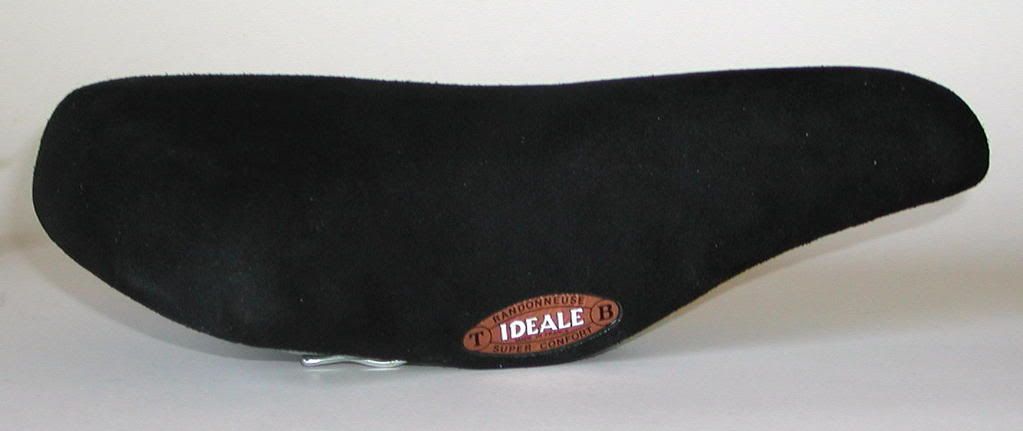 Ideale 2004 offered on
CR List
, October 2008 at $91 including shipping.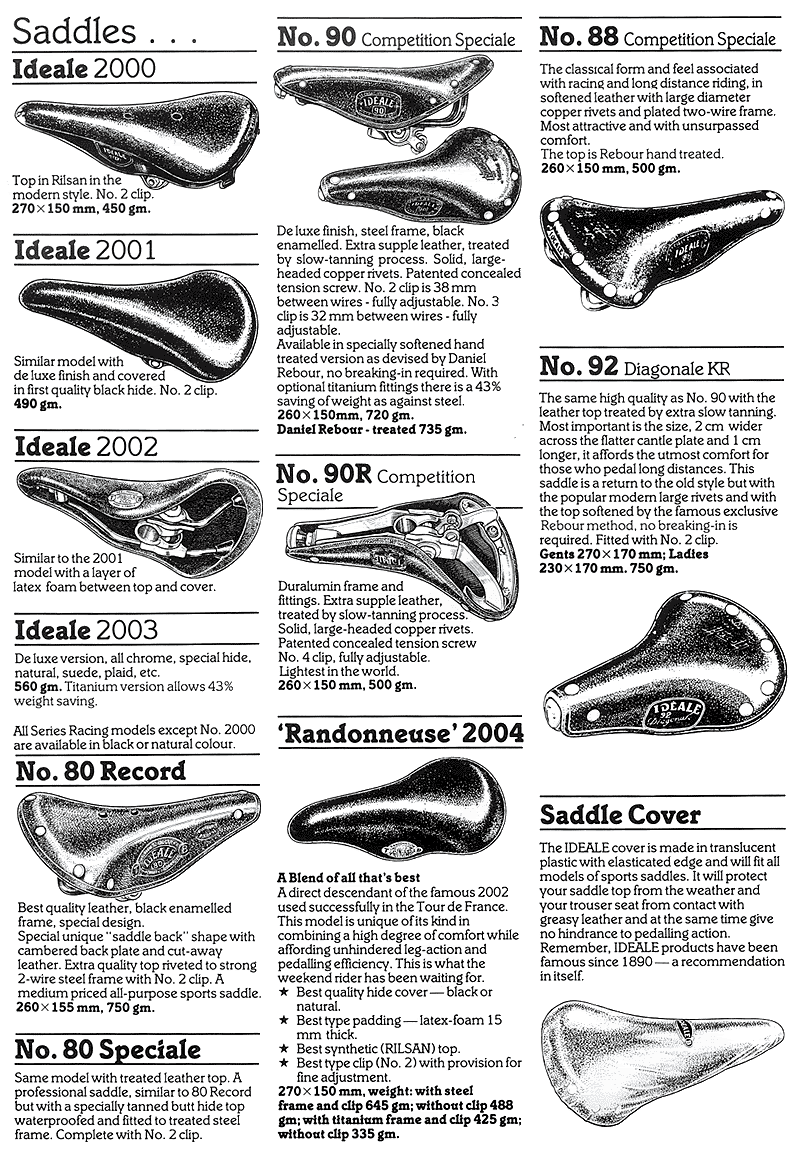 The final photo, found
here
, is a
page
from the 1981 Ron Kitching catalog, showing how the models break down:
2000: No padding, no leather cover
2001: No padding between shell and leather cover
2002: Padded version of 2001
2003: Deluxe version of 2002 with chrome or titanium rails
2004: Extra padded version, the "Randonneuse" model