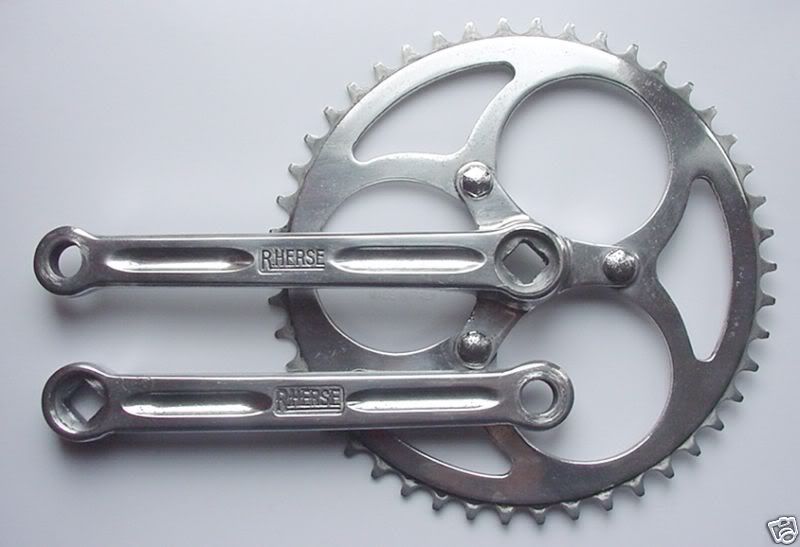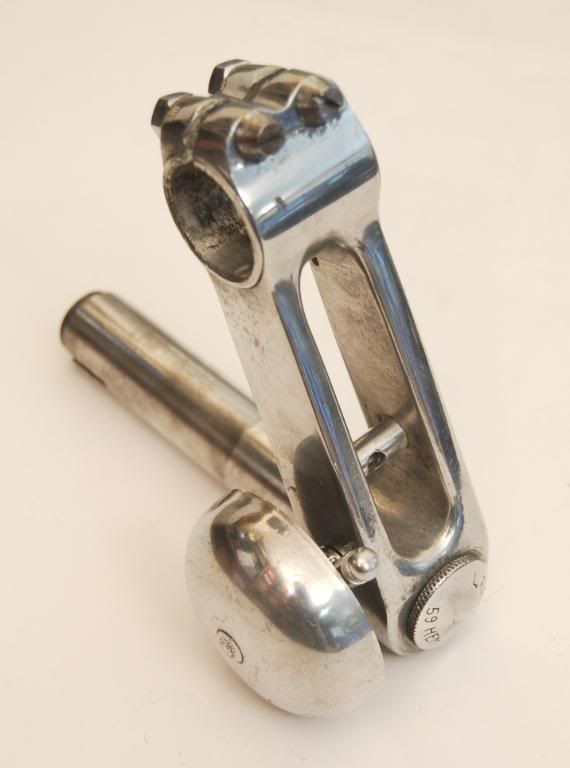 Cranks Sold
: $1,350 including shipping
nice pair rene herse cranks 165mm, 46 teeth 3/32 chainring, french pedal threading. cranks are in very good working order with only little scratches here and there, would look very good after a good polish. 46 teeth chainring in very good condition. crankbolts are both right side threaded, chrome is bad.
without scratches.
Stem Sold
: $472.55 including shipping
10.5 cm c to c. Complete with Sonnett bell, Rene Herse tapered head screws, alloy nuts. Beautiful!
My Snipes: n/a
Most bicycle makers are satisfied with building a frame and hanging off-the-rack parts on it. In his quest to build the best bikes he could,
Rene Herse
hand-made many of the components on his bikes, including this beautiful crankset and stem.
For more information on Rene Herse and the other great French Constructeurs, I highly recommend Jan Heine's book
The Golden Age of Handbuilt Bicycles
.
Here's one reader's review of
the book
. It does a good job of explaining what was so special about these bikes:
This book is a photo album of a number of hand-made "constructeur" bikes, designed in produced in France mainly in the 1930s-1970s (although one maker, Alex Singer, is still going today). Great marques such as Herse, Singer, Reyhand, Faure and many others are represented. If you have only a single "retro" bone in your body, this is "bike porn" of the first order.


What makes these bicycles so special is that they were "tailor made" for individual riders with a loving care long lost in the world of two wheeled transport. In general they were designed for "randonneur" or "Audax" riding, timed events over long distances, requiring packs and lighting systems. In point of fact they are supremely useful bikes for any kind of road riding, short of competitive racing.


What dazzles is not so much the details of the frames (thinned or fancy lugs, luscious paint)--things that artisan builders tend to stress today--but rather the integration of an entire working system. Everything is made to work together: lighting (including generators); baggage and racks, fenders, wheels. Nothing is improvised or "bodged." The purchaser of one of these bikes did not have to worry about a fender coming loose, a light shaking off, or a bag pulling off. Fenders are exactly the right distance from tires, bags fit and look great, etc. For this reason the bikes are inherently handsome.



Why is all this important? These bikes did the job, with style. Their front end geometry was perfect for long hours in the saddle. This is the kind of integration we take for granted if we buy a car or motorcycle, but for some reason today it is totally lacking when we acquire a high end bicycle. Perhaps the example of the "lost art" of the bikes in this book will inspire makers today to produce bikes as integrated systems, and to sell them for reasonable prices.
That reader's wish has come true in a way, as a company in Colorado has recently aquired the
Rene Herse
name from his daugher and are ramping up production of new Herse bicycles.