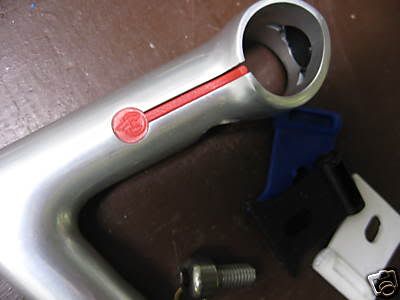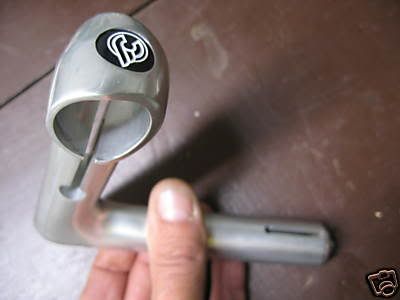 Sold
: $109.40 including shipping.
Italian made. Cinelli in 26.4/100. This is a very rare model. Not manufactured for long. Colored bits can be interchanged.
The best Cinelli timeline I've found on the web is
here
at
43Bikes
.
Mookie
hasn't been posting on his
blog
lately, but the site is certainly a labor of love and worth exploring in great detail.
But this stem isn't included in his timeline. A few minutes on Google Images brought me to a
Classic Rendezvous page
which ID'd it as a
Cinelli XR
. Unfortunately, there is no detail about this stem other than that it was "short lived."
From all appearances, it looks like an XA and a 1R mated - the smooth appearance of the
1R
, and the rubber insert split of the
XA
combined in one stem. While I haven't had much trouble with them,
many people
don't like the wedge clamping device in the 1R, so maybe this was a stop-gap design between the two models?
If I had to guess, I'd say that the XR probably dates from the late 1980s, since it's 26.4mm at the bar, a spec that Cinelli phased out by 1990. Does anyone have further information? Leave a comment and I'll update this post with it.
Update: Jeremy left a comment saying:
There are a few references in the CR archives (link here) to it appearing in ads from 1986. I think you're right that it was the transition model between the 1A and the XA, which came around in '88ish.
I wouldn't think a horizontal cut like that would stand up so well to the perpendicular twisting forces of a bar, but I'm not a mechanical engineer...though one has to wonder if anyone at Cinelli was either. :)