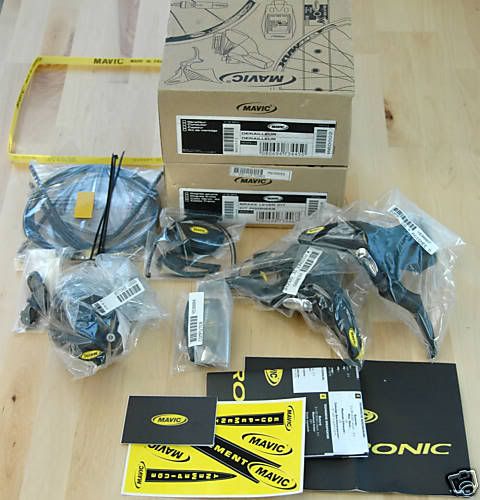 Sold
: $415.46 including shipping.
Likely won by: Manual Bid (winning bid more than 10 seconds before auction end)
Mavic Mektronic - Wireless Electronic Transmission Grouppo. New in original boxes, includes everything. All parts still sealed in original plastic wrap. Comes with all manuals, stickers, etc.
With
Di2
, Shimano's electronic shifting system on it's way, and with pricing rumored to be in the (correction) $4,800 range, maybe it's time to have a look at Mavic's Mektronic system.
My experience with Mektronic is limited to a brief parking lot spin, but there are
numerous reviews of the system
online. The general theme seems to match the thoughts of one Mark McM on
RoadBikeReview forum
:
That Mavic group was ahead of it's time. Great idea, poor execution. It was known for being tempermental and heavy. It was the last full group Mavic made, and has the been the example for Shimano and Campy of how not to make an electronic grouppo... Mektronic was of course Mavic's second electronic group. Their original Zap system probably lasted slightly longer than Mektronic - but that's not saying much, as both rapidly disappeared after their initial fanfare. Mektronic supposedly fixed the problems with the Zap system (and there were many), but it really only replaced a few of the original problems with new and different problems. And even after two rounds of at electronic shifting were put on the market, we never did figure out why it was needed or wanted in the first place.
This is in sharp contrast to the glowing reviews coming out about Di2, including one from
Belgian Knee Warmers
:
I'm going to cut to the chase: Di2 rocks. The shifting is simply the fastest I've ever experienced, faster, I dare say, than I would have imagined possible. While rear derailleur upshifts aren't much faster than current Dura-Ace, the front derailleur upshifts are honestly smoother and faster than I thought possible, even when out-of-the-saddle and stomping the pedals in a Tom Boonen-goes-bye-bye effort. The automatic front derailleur trim function is another neat touch. Even if electronic shifting is an answer to an unasked question, a front derailleur that needs no trimming is something we have all fantasized about at some point.
Ok, so Mektronic isn't ready for Boonen, but it's still interesting and affordable, and has a very striking "high tech" appearance.
More discussion of Di2 at
Velocipede Salon
, including a
link to a detailed review
on Bike Radar.