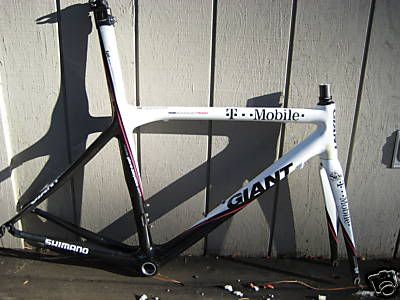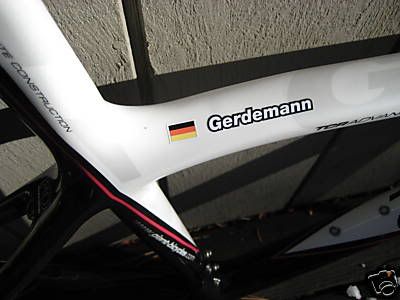 I'm a sucker for genuine team bikes. Modern or old, I dig them. They are both historical artifacts and useful tools, and they are often surprisingly affordable, at least compared to equivalent relics from other sports. Priced a Formula 1 car lately?
A couple of pro bikes have come up lately that I found interesting.
Linus Gerdemann
won a stage
and took the yellow jersey in the 2007 Tour de France, a clean highlight in a race otherwise tainted by the likes of Vinokourov and Rasmussen. One of his T-Mobile Giant Team frames from that season recently
sold on eBay
for $1,530 including shipping:
This is a used 2008 Giant TCR Advanced ISP Team Frame. Used by 2007 Tour De France Stage Winner Linus Gerdemann. Saddle height will go up to 77cm with the included shims. Steerer is cut to 20cm. So you can put about 5-10mm on spacing under your stem. Frame is in good condition. Some normal wear and tear on frame. Some small scratches, but this frame is fully functional and ready to be ridden. I would rate this frame an 8 out of 10. Also you can tell this was a team frame because of "die mannshaft" and "SRM" stickers on frame. No other teams used this decal. THIS IS A ONE OF KIND PURCHASE. OWN A PIECE OF THE 2007 TMOBILE TEAM.
With its long integrated seat mast and short steerer, the pool of buyers would likely be limited to the young and flexible, or those with a burning desire for a cool wall-hanger.
Another interesting pro-ridden bike has been for sale for four weeks but hasn't sold.
Justin Spinelli
advertised his podium-scoring KBS/Medifast Team LeMond on
velocipedesalon.com
at $1,500 but has had no takers:

I'm selling my Team Issue Lemond Triomphe Carbon 55cm with Red/Rival and Bontrager X-Lite bits. 175mm RED cranks, everything else Rival including brakes. 40cm c-c bars, 130 -17 stem, white SLR saddle. Never crashed. This is a quality monocoque carbon frame... much nicer than your average, run of the mill import. This is the bike I rode to 2nd overall at the Fitchburg Longsjo Classic and to victory at the Yarmouth Clam Festival. Wheels not included. Many pics in the archives here: www.sveltecycles.blogspot.com
$1,500 plus all shipping and paypal fees.
I'm surprised this hasn't sold. Justin has an impressive palmares; he's ridden the Giro and raced Worlds, twice (not to mention the Yarmouth Clam Festival - what a great name for a race!). I'd think even without the association with Justin the bike would go for something close to his asking price on eBay. Maybe the controversies surrounding of Mr. LeMond over the past few years have lowered the desirability of the bikes that bear his name, or perhaps green isn't the hip color this season?
As an aside, I agree with chatter I've heard lately that the last alloy Rival group will be collectible in the future, as the mainstream goes carbon; now's the time to buy. It's already happened with the last alloy Chorus group, which is getting pricier and harder to find.