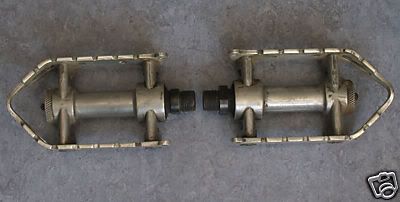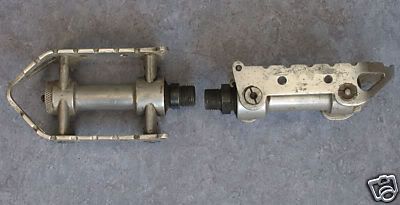 Sold
: $1,550 including shipping
TA Pedals
First generation, rare TA pedals. Good condition. I have to sell these pedals from my collection to finance Vintage Bicycle Press' new book project The Competition Bicycle - A Photographic History
http://www.vintagebicyclepress.com/CompetitionBook.html
Introduced in 1952, these pedals featured cartridge bearings (balls on outside, rollers on inside). Very expensive when new, few were sold in the short time they were available. Used by the best bikes from the most expensive French constructeurs, such as René Herse, see the cover of the book The Golden Age of Handbuilt Bicycles
http://www.vintagebicyclepress.com/goldenage.html
The auction had 3 bidders at $1,400 or above.
Speedplay's
amazing
Online Pedal Museum
features these pedals (and about every other pedal you can imagine), saying:
TA Pedal (First Generation) 1949, France
First generation TA pedals are considered the "Holy Grail" of vintage pedals by seasoned collectors. These pedals are so rare that if you are lucky enough to find them you should be prepared to pay thousands of dollars for them. They feature a cartridge bearing on the outside, a needle bearing on the inside and can be greased through the dustcap. Both the body and cage are made of alloy. The first generation TA pedal can be identified by the four nuts used to attach the quill and no toe strap guide-pin on the the inside of the quill.
Joel Metz, unsurprisingly, has a great page about the TA pedals
here
, where he provides background on their evolution up to the present day. The last photo of a more recent model is from his page.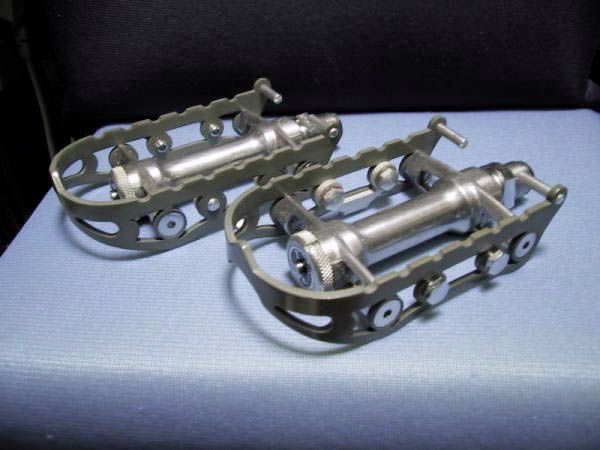 Velo Orange
blogged about and used to carry the modern TA pedal, but apparently they are out of stock as of this post.