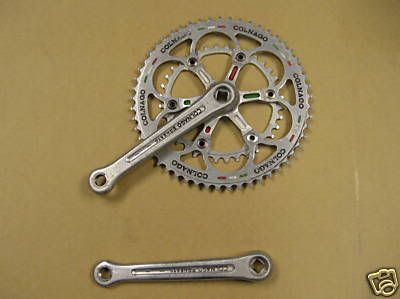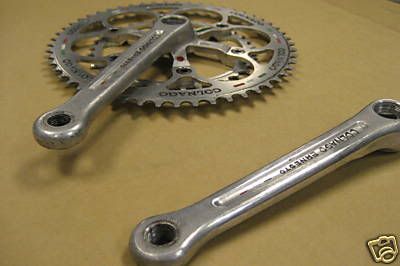 Sold
: $531 including shipping
Attention vintage Colnago collectors. Here is one of the great Colnago rarities. It is a six pin pantographed crank set in 170 mm length. These were made by Ambrosio. Gearing is 53x36!! Bolt circle diameter is 120 mm. Don't ask me where you will find extra rings! I bought these new in the early 1980's and they were used on a Colnago Super. These cranks will work fine with a Campagnolo bottom bracket or any other Campy taper bottom bracket with a 115 mm or so length. The condition is very good. The cranks could use a good polishing. The rings are in very good condition. Plenty of miles left. The paint in the engraving is decent condition but could be easily redone for your Colnago show bike.
The last photo is from flickr user
GTS753
, who is apparently lucky enough to own two of these cranks; his 42/52 version can be seen
here
.
Campy Oldy
claims that only a couple were made but that seems unlikely. Still, they are indisputably rare, and given the desirability of any Colnago panto parts, maybe this isn't such a huge price. Better photos would likely have boosted the price and conveyed more about the condition.
I couldn't find evidence that Ambrosio made a non-Colnago version. Has anyone seen one?