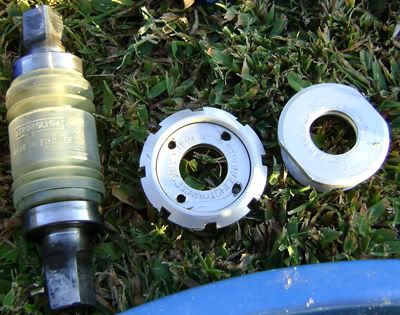 Sold
: $44.95 including shipping
Likely won by: Snipe (winning bid within 10 seconds of auction end)
My snipe: $20-ish
Almost like new Stronglight Euro BB. I believe these came stock with the DG Super Pro and perhaps the Californian. Still can read all the logos on the plastic housing and aluminum outside washers.
Made in France. Bearings are sealed.
Q: What thread?
A: I have no idea. It came on a 1978 DG Super Pro. OK on the aluminum it says "Stronglight Competition France 37x24" Hope that helps.
I threw in a low-ball snipe, but someone really scored here even at the selling price. If it had been listed as a vintage track bottom bracket it might have sold for twice this amount, given the alloy cups, sealed bearings, and cool brand.
I occasionally see Edco headsets, nice single-ring Sugino cranksets, and other road or track parts that were cross-marketed listed among the BMX stuff, and I wonder why the fixed gear folks aren't bidding for them.
In case you're wondering, "Euro" is '80s
BMX-speak
for an english cotterless bottom bracket.