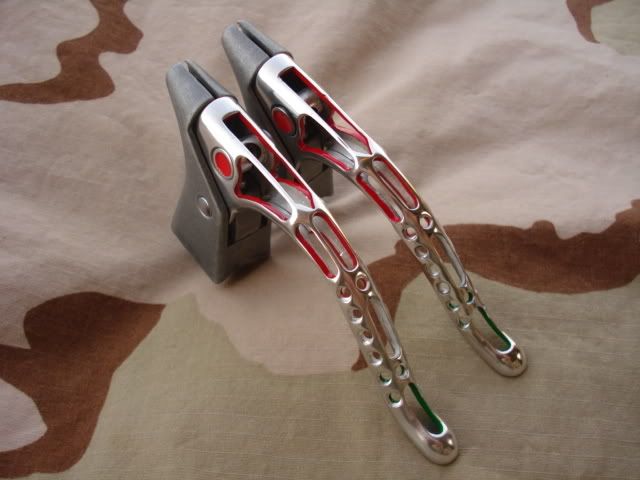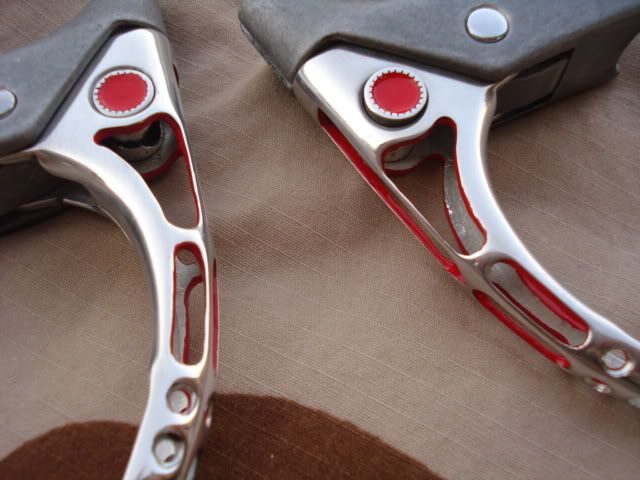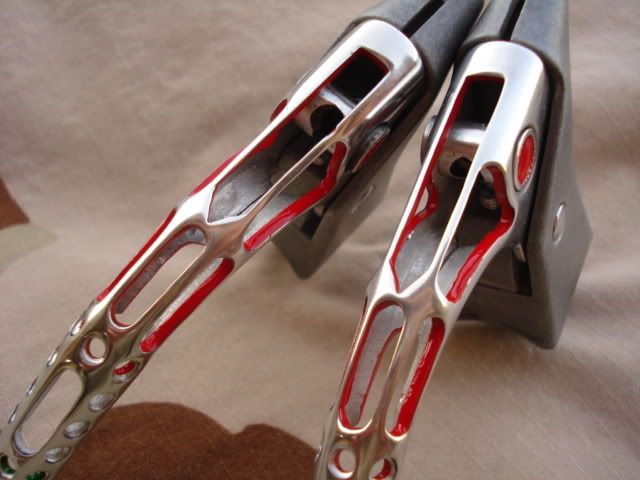 Sold
: $189.65 including shipping
Campagnolo Super Record brake levers with custom drillium, slotting, polishing and enamel. First item completed while here on duty in Afghanistan and now available. These are the perfect finishing touch for your drillium-equipped retro ride. Disclaimer: THESE ARE FOR SHOW ONLY! Item was shipped from Afghanistan to my wife in Oak Harbor, Washington and she is now in receipt of the item. The item will ship from my normal home address.
Several months ago, after offering a number of interesting hand-modified parts over a few months,
this seller
posted some drillium Campy shift levers. In the text of that auction he said that it would be his last for a while as he would soon be deployed to Afganistan.
I was happy to see him return to eBay with these brake levers. Earlier this week, the seller added a link in the auction to
Campy Only
, who has set up a page about the seller:
November 7, 2008--You never know where you'll find a Campy fan! Today's case in point: US Navy Chief Petty Officer Jeffrey Rumbold, currently stationed with the US Army in Afghanistan. Jeffrey took his Dremel tools with him and, in his off hours, engages in his hobby of recreating "drillium" parts from the 1980s. Here are photos of his work, which is often available on eBay. (Look for his seller id:
colnagomanwa
).
Pretty cool way to fill the down-time. I'm sure we all wish Jeffrey a safe return, and I look forward to seeing more of his work.
Campy Only says 1980s, but that's probably just a typo; the 1970s were the heyday for drillium parts. Jeremy Rauch posted about drillium
here
, and provides links to several very interesting period articles about these artfully-modified parts.
Chuck Schmidt has a page
here
detailing his 1975 Peter Johnson, and the Frank Spivey drillium parts on it. An extraordinary bike, well worth checking out.