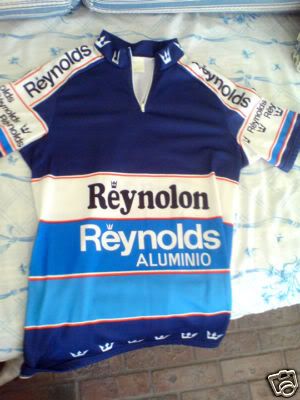 Reserve Not Met
at $101.01
A close friend has retired from the bike racing world and is selling his private jersey collection. All are in fine condition except one which has broken zipper. Most are from the European racing team circuit. There is no reserve price for this auction. 14 jerseys total count, sized 4 and 5. Of the fourteen jerseys, seven are wool and seven are nylon.
>>>>>>>>
The terms of the auction have been revised to a reserve price stature of 275.00 or approximately $19.50 per jersey. The owner has specified that 4/5 and 5/5 are the European medium to large and that he wears a 42 jacket size.
Some really lovely and rare jerseys.
I'd guess the total value of these auctioned separately would be somewhere above $500. Too bad the seller didn't present them better. I think most people that buy vintage jerseys want to wear them, and therefore want specific measurements of what they are bidding on.