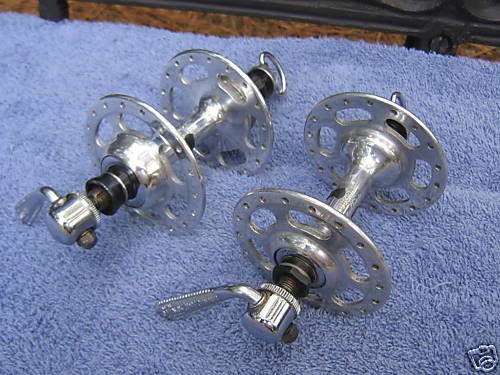 Campagnolo Nuovo Record Large Flange Hubs British 36H
: Sold at $337.85 including shipping.
My snipe: n/a
Listed is a set of Campagnolo Nuovo Record large flange hubs that are in excellent condition. These are for 120mm rear and for British threaded freewheel. The spoke holes are in beautiful condition. Skewers hardware has such pretty chrome. These 36H spoked hubs are about as pretty as one would find, short of NOS.
Vintage Campagnolo Hub Set- 120mm spacing for freewheel
: Sold at $83 including shipping.
My snipe: $60-ish
This is a classic set of high flange Campy hubs. Known as Nuovo Tipo, they are meant for 120mm spacing, the rear is a freewheel compatible model, not for use with track cogs. As you can see there is some normal wear and spoke hole deformation. They have nice patina which I have chosen not to polish out, it would be a simple matter of a few minutes with a polishing wheel to get them to shine. The bearings are remarkably smooth. The threads on the axles are in good shape. The Hubset comes with the original Quick Releases. Unfortunately the Rear QR is missing a tiny circlip, which is why there is a twist-tie holing the lever in place. This should be easy to find at a hardware store. All four original springs are also included.
From what I've non-scientifically observed on rides and on the internet over the past couple of years, the popularity of high-flange hubs has been on the rise. Is it trickle-down from the track/fixed scene?
I think the selling price of these record hubs leaves the trend for multi-speed high flanges in no doubt. These were $100-125 parts, even with the correct flat-arm skewers, just a year or so ago.
The Tipo's surprised me as well.
Introduced in 1967
, these were a cheaper alternative to the range-topping Record model. Thinking the round holes would complement some drillium on an early '70s bike I'm building, I thought I was safe at $60-ish, especially since the QR cam body on the hub in the foreground is incorrect, but that was not the case.
It's worth remembering that Campy hub bodies are not anodized and easily take a polish. Sellers, polish your hubs, and buyers, don't be too dissuaded by dull aluminum, you might score a bargain. The seller of the Record hubs did a fine job presenting his, but does anyone have any other theories to explain the selling price?