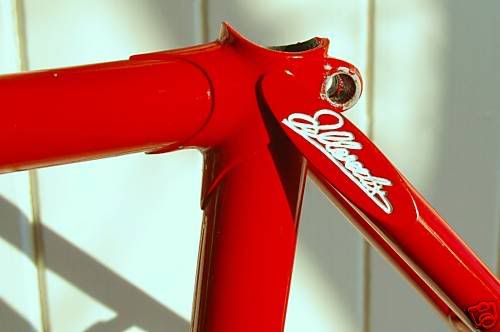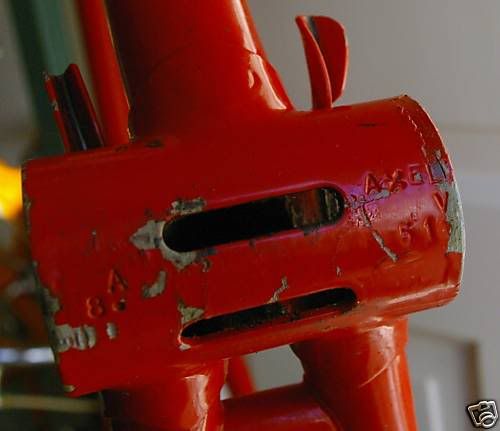 Merckx week continues with two framesets reported to have belonged to an amateur
Axel Merckx
:
c1984 MERCKX FRAME SET 48cm =nice= Axel's bike?
: Sold, $626 including shipping.
Merckx
Road Frame Set
Dating from ca. 1984
AXEL is stamped on the bottom bracket
Is this Axel Merckx' bike when he was 12 years old???
I bought this bike in Belgium.
Columbus tubing
Chromed front forks
Nicely pantographed
Little signs of use; visible in the photos


Height: 48cm (19 inch) center-center
Top tube length: 50cm (19.70 inch) center-center

On Nov-24-08 at 08:44:52 PST, seller added the following information:
As someone told me very kindly this frame set is older than 1984.
The name script on the seat stays and fork crown dates it as ca.1980. The shifter cable routing above the BB dates it as pre-1983. It must have been resprayed and fitted with later transfers.
I've asked Axel Merckx if he can remember this bike ! I'll keep you informed.
Nov-26-08:
Q: have you heard from Axel? concering the frame
A: No, not yet. It's 3 days ago now that I sent him a message...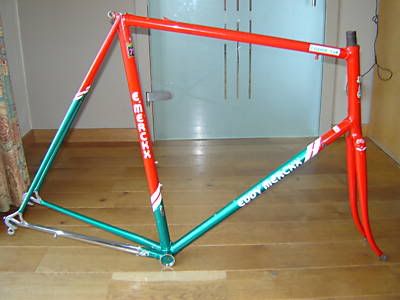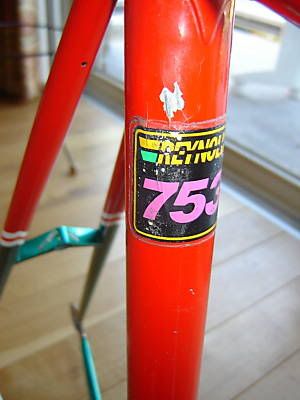 EDDY MERCKX PROFESSIONAL 7-ELEVEN TEAM FRAME SIZE 63
: Sold, $858 including shipping.
EDDY MERCKX
PROFESSIONAL
7 - ELEVEN TEAM
SEAT TUBE C/C =63 cm
TOP TUBE C/C = 56 cm
OVERALL CONDITION IS STILL VERY GOOD, BUT THERE IS SOME DAMAGE ON THE TOP OF THE SEAT TUBE NEAR THE REYNOLDS DECAL - SEE PICTURE.
THIS BICYCLE WAS SPECIALY MADE FOR AXEL MERCKX - THIS IS A ONE OF A KIND BICYCLE ! AS MERCKX ONLY MADE 1 OF THESE, THIS IS AN EXTREME HARD TO FIND COLLECTORS ITEM !!!!!
Nov-21-08:

Q: As an owner of 7 Merckx frames and bikes dating back to 1985 I was wondering when Axel Merckx actually used this bike. In 1989 he was only 17 and did not turn pro until 1993 ( Motorola) he was never a member of 7-eleven. Besides the old books and brochures I have on Merckx frames show the team issue bikes to have chromed seat and chain stays. This is a differat color scheme, though the serial number indicates this bike was made in 1989. Please provide more info please.


A: hello, THIS IS THE STORY OF THE FRAME : we bought this frame a few years ago. the previous owner (a MERCKX dealer) told us that the frame had belonged to AXEL MERCKX. as it is a large frame, that could be possible. so I sent an email with some pictures and the BB number, to the MERCKX factory to ask them if this was true. a few days later they answered : 'de patron' as EDDY is called by his mechanics, confirmed that this frame was made for his son AXEL ! he also confirmed that the bicycle was still 100 % original !!!!. it is, as you say, true that AXEL never was a member of the 7-eleven team. he only used this bicycle for training. he also confirmed that the bicycle was sold after some time to a MERCKX dealer. THE SAME DEALER FROM WHOM WE BOUGHT THE FRAME !!! As I say in the description : this is a bicycle that was specialy made for AXEL : a one of a kind !!!!! A PRESENT FROM THE GREATEST TO HIS SON !!! normaly they did not use Reynolds tubes but Colombus. also the fork was normaly chromed. I can send you the MERCKX email, but of course it is in dutch. Hope I answered your question well. thanks for visiting my auction and thanks for asking. Kind regards, Karl
Axel would have been about 8 years old when the first frame was built, so the size could be right. I was surprised by the radically short top tube on the later bike. 63x56 is a very strange combination. Maybe his proportions evened out as he grew up.
Can't know for sure, but I don't think that the Axel provenance really impacted the selling price of these frames much. A 753 Merckx in 7-11 colors is a valuable frame, and 48's are hard to find. These are riders, not wall hangers, with a little bit of cool history thrown in.