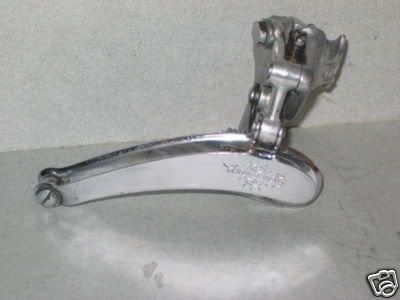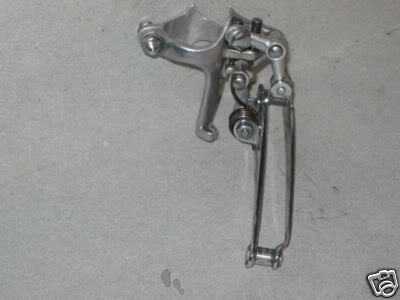 Sold
: $192.28 including shipping
Likely won by: Manual Bid (more than 10 seconds before auction end).


This listing is for a RARE vintage Campagnolo rear derailleur from the early-1960s. This is the 1st Generation parallelogram design with the built-in cable stop. Given its age it is in absolutely amazing condition. The chrome on the cage is virtually perfect; there is no rust, pits or corrosion. Just some very minor marks (on the inside only) from the chain. From 5 feet away it looks brand new.
The minor variants of early Campagnolo Record front derailleurs are numerous. Generally though, the defining characteristics of this derailleur are the above-mentioned cable stop and the lack of a circlip on the upper/outer parallelogram pivot.
While it could be used on any standard bike, the most appropriate frame would have a corresponding braze- or
clamp-on cable stop
on the downtube near the bottom bracket, and the cable would run
through a short section of housing
between the two.
As framebuilding fashion veered first towards
clamp-on
(late 1960s), and then
braze-on
(mid-70s) bottom bracket cable guides, the vestigial stop
was eliminated
. The
Velo Retro Campy Timeline
shows that the
circlip
was introduced in 1972, but doesn't indicate when the stop disappeared; I suspect it was years earlier.
Somehow, the
housing stops on the downtube shifters
survived much longer, decades after full-housing derailleur cable runs were common. Anyone know why?
>>>>>>>>>>>>>
More on Campy Fronts
here
.