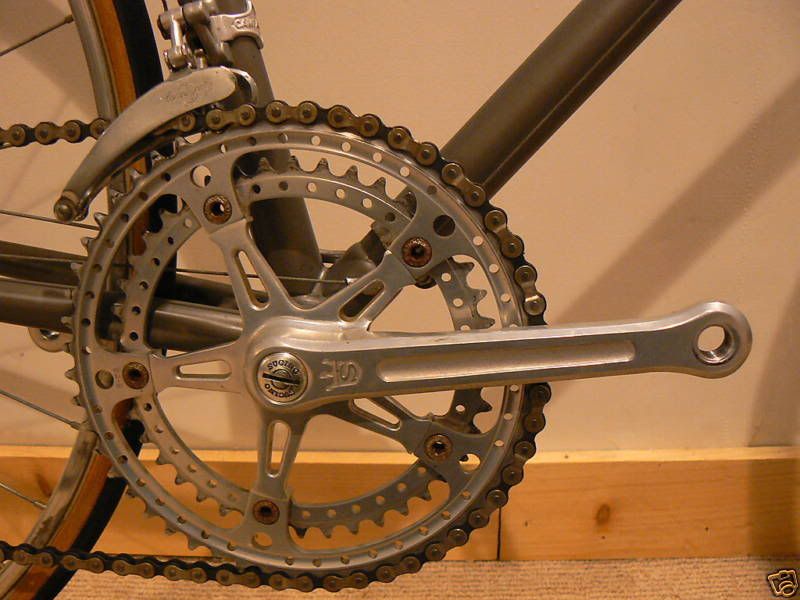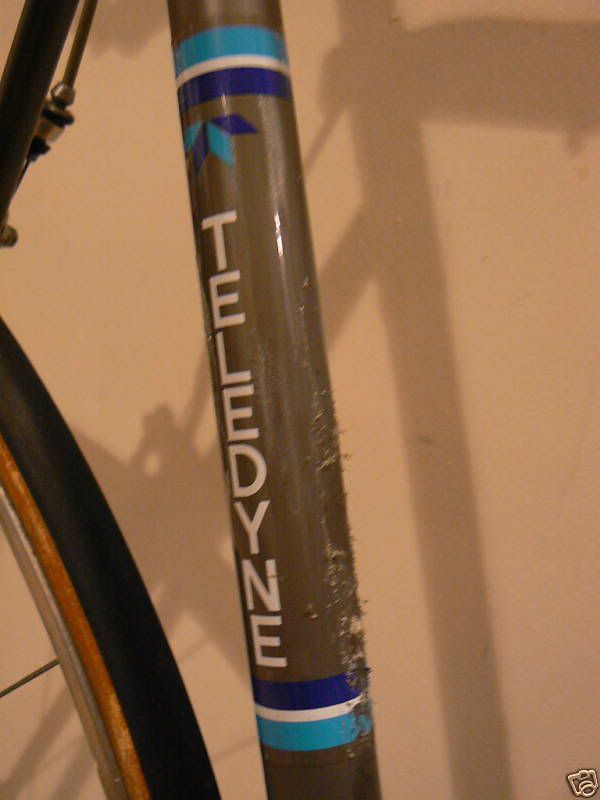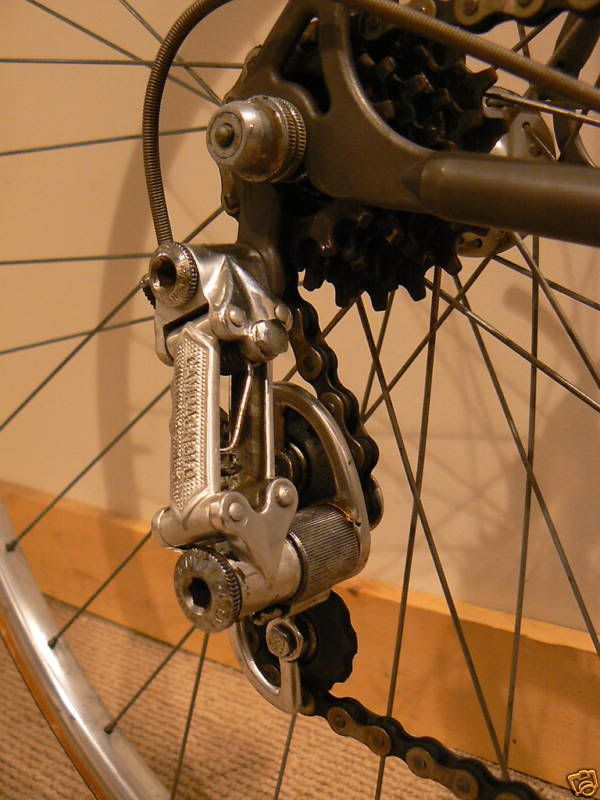 Sold
: $486.67 including shipping.
Likely won by: Manual Bid (more than 10 seconds before auction end).
You are bidding on an original 1970-s era Teledyne Titan Titanium Road bike.
This bike is in very good condition. The seat tube measurement (center to center) is 60cm. The top tube measurement (center to center) is 57cm. The bike has been built with a sweet set of components (see below).
The Teledyne Titan was the first American production Titanium bike. It was manufactured from 1973 - 1976 by the Teledyne Linair Corporation in Gardena, CA. A good website explaining the history is here: http://www.classicrendezvous.com/USA/Teledyne/Teledyne_titan.htm
Here are the components on this bike:
Dura Ace Headset
Campy Nuovo Record Front & Rear Derailleurs
Surgino Mighty Cranks
Surgino Bottom Bracket with Teledyne Ti Spindle
Suntour Superbe Brakes & Levers
Suntour BarEnd Shifters
SR Handlebars
SR Royal Stem
Avocet Post
San Marco Saddle
Sunshine Hubs - Rims Unknown
This seems like a pretty low price for this bike. The winning bid was $424.00 excluding shipping.

I included a few extra pictures to show the various components. There are condition issues, as evidenced by the fraying seat tube decal, but I have always liked that era SR Royal/Four-Sir stuff, as seen in the crest and machine work on the bars and the milled slot in the stem. Then there is those cool factory drillium chainrings on nice early fluted SR crank arms, albeit held on with rusty nuts. Note also that unusual Avocet seatpost, the Campy NR derailleurs and SL pedals, first-gen SunTour Superbe brakes, Teledyne Ti spindle, and the single most valuable component, the Superleggera alloy-railed Concor saddle. If the buyer is parting this out, he'll at least get his money back.

But what if he wants to ride it?

The Classic Rendezvous link in the auction says that the Titan was one of the first production Ti frames. Folklore says that these are fragile, flexible, one-season race weapons that were never meant to last. The seller promises this one is in good shape, but the specter of frame failure probably overrode the exotic nature of the bike, and consequently lowered the selling price. Either that, or we've all been distracted by the holidays and missed a bargain.

There is an exhaustive article on the Teledyne Titan on that CR page that is worth reading.

P.S. A final note on the importance of presentation and photo quaility: I intentionally left out the shot of the full bike. The flash blew it out, and the bike is presented oddly, with bar-ends and awkward bar/seat/wheel proportions in general. I think that it might have actually eroded the selling price as much as stories of cracked Teledynes. Do you think it was the photograph, are these simply odd bikes in a 60cm size, or am I off base here?