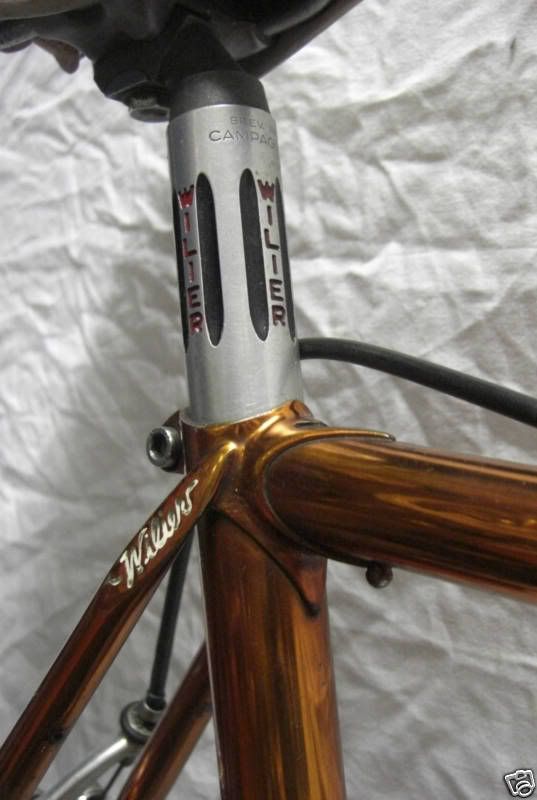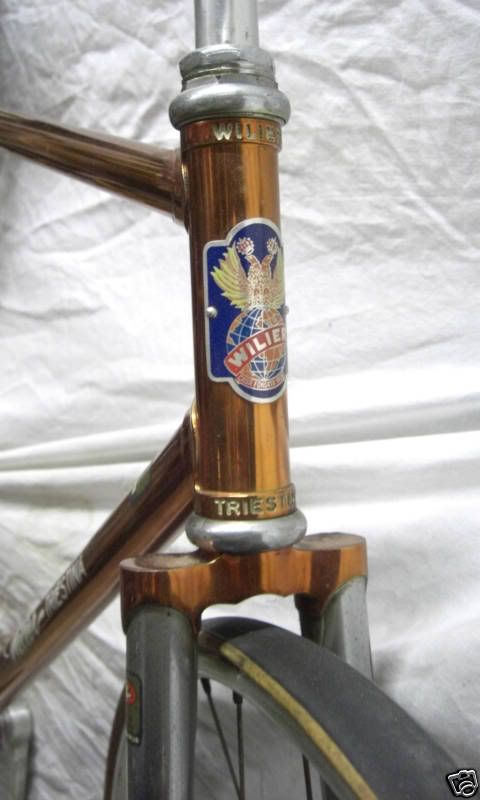 Two Copper Wiliers were recently listed by the same
seller
. While not explicitly stated, they appear to be a matched set.
vintage WILIER copper plated bike full panto campagnolo
: Sold at $1,495 including shipping
Likely won by: Manual Bid (winning bid more than 10 seconds before auction end)
Size is 54x55 ctc.Low reserve. Find a minute to check more pix here.
http://www.wooljersey.com/gallery/v/bees/wilier+road/
Thanx for checkin back!Let me apologize for the pix! Usually i have some nice and crisp sets of pix to show the bikes im selling, but unfortunately,no sunny days here at the moment,so i had to go for indoor shooting.Lemme say that this kind of pix don't do the bike any justice! the dark area behind me makes the copper plating looking much darker,but believe me that bikes looks way better in person! Bike sports a full panto campagnolo gruppo with black accents on the various components. Low mileage and use,are a couple of extra reasons to go for this bike, if you have been looking for one. There are signs of wear on the bar,around the clamp area and minor scratches here and there around the frame, but otherwise the bike is in perfect working conditions.Yes, you wanna take it apart,and regrease, lube and clean the whole thing the way it suit you the most. Ill let the pix do the talking, as they show the good and the bad of the bike.
RARE vintage WILIER copper plated track bike campagnolo
: Reserve Not Met at $1,318 including shipping.
Size appears to be 52x52 ctc.Low reserve.Find a minute to check more pix here.
http://www.wooljersey.com/gallery/v/bees/wiliertrack/
here you have the chance to bid on a pretty much unused wilier track bike.The previous owner,bought it to use it inside the velodrome that was inside the PALAZZETTO DELLO SPORT in Milano.Unfortunately,the building,during the1983 snowstorm(if i recall it correctly)imploded under the weight of the snow,destroying everything inside,velodrome included.That why bike went unridden,it has been used,for few laps around the track,and that was it.As you can see in the pix,it still has a good layer of dust!Bike is fully equipped with campagnolo parts,TTT stem and cinelli bars.The standover height is 78.5 and size is 52x52 ctc.Place this under the sun or at any velodrome,and you will be sure that head will be turning.Make sure to check the link above for more details.and dont hesitate to get in touch with me,if you need more infos! Reasonable reserve! Last one sold for 2 grands, my reserve is well below that!Good luck!
The final photograph comes from
The Racing Bicycle site
. The 1986 Wilier in that collection is stunning;
click here for more photos
. The site introduces Wilier as follows:
One of the best known names in Italian cycling, Wilier was founded in 1906 by Pietro Dal Molin. Following WWII Wilier formed a professional cycling team led by Giordano Cottur of Trieste. In 1945, the name of the brand was changed to Wilier Triestina, and the distinctive copper colored finish became a trademark of Wilier Triestina. The great Italian cyclist Fiorenzo Magni won the 1948 Giro d'Italia upon a Wilier Triestina , followed by other notable wins for the team in 1949 and 1950. In 1952 the factory ended production and left competitive cycling, however the Wilier Triestina marque was reconstituted in 1969 and once again entered the world of competitive cycling. In 1985 and 1986 Claudio Corti won the Italian national championships, riding one of the most beautiful racing bicycles ever to grace the pelotons of professional cycling.
As stated above, the brand's vintage bikes are strongly associated with their beautiful copper laquer over chrome finish, known as cromovelato, also discussed in
this post
. Owners of cromovelato bikes may be interested in
this recent post
on the Classic Rendezvous list:
The closest I came to acceptable touchup to chromovelato Raleigh was using
"Orange Anodize" Dupli-Color Metalcast from Kragen, Checker, etc. Different
color of same stuff was not quite as good for Vent Noir smokey chromo but I
needed more time to experiment. Use very thin light coats til best match then
rubout to blend. Avoid runs/sags as they are very noticeable. Mask or use
fine brush for small areas such as chips and scratches.
More Wilier information and photos of a 1930's Wilier are on the
Classic Rendezvous site
.
As of last year at least,
Wilier
was the team bike for the
Lampre
pro squad, but sadly the current bikes are fairly generic modern offerings. I guess you can't chrome carbon...